Public Page
Follow
Interests: http://www.iranian.com/main/member/majid-naficy http://www.iranian.com/mnaficy
Joined on December 03, 2012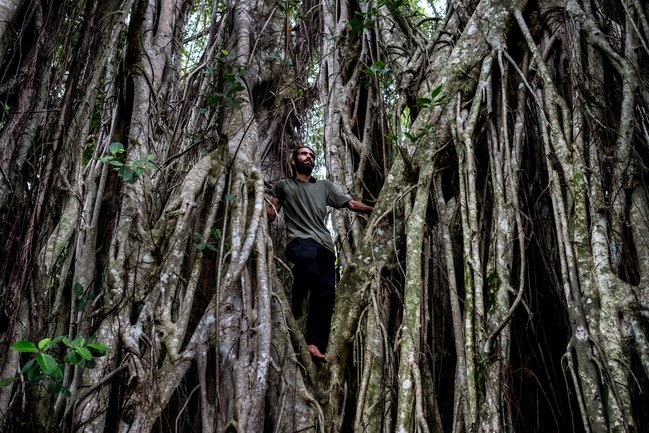 Behrouz Boochani's prize-winning book, "No Friend but the Mountains," contains many descriptions of the varied tortures of waiting in legal limbo. Photograph by Ashley Gilbertson / VII / Redux
The New Yorker: In his acceptance speech for the Victorian Prize, the largest literary prize in Australia, Behrouz Boochani said that he had imagined himself as "a novelist in a remote prison" while writing "No Friend but the Mountains," which has swept Australian literary awards this year. (Its most recent honor is the National Biography Award, received last month.) Boochani indeed wrote the book in a remote prison, on Manus Island, where he has been for six years. But the romantic image conjured by the phrase "a novelist in a remote prison"—a solitary man cast out of society—is different from Boochani's reality. He wrote surrounded by hundreds of other men, never in solitude. And Boochani is by no means an outcast from Australian society—he is one of the most celebrated cultural figures in the country. He just can't come onshore.
Boochani, who is Kurdish, was born in Iran in 1983. Educated as a political scientist, he worked for a Kurdish magazine that came under attack from the authorities. Many of his colleagues were arrested, and Boochani fled Iran, making his way to Indonesia. He then made two attempts to get from Indonesia to Australia by sea. His second harrowing journey is described in "No Friend but the Mountains." The smuggler's boat sank; Boochani watched some of his fellow-refugees drown. The survivors were picked up by an Australian Navy ship. They thought they were saved. The asylum seekers were first taken to Christmas Island, where they were held for a month, then transported by plane to Papua New Guinea's Manus Island. They couldn't have known this when they were boarding the boat in Indonesia, but Australia had just entered a new stage in its war on immigrants, which was then a decade old.
It began with extreme anti-immigrant sentiment in what seemed like the very far-right fringes of Australian politics—a political party called One Nation, founded by the parliament member Pauline Hanson, who had split from the (conservative) Liberal Party, in 1996. In a few years, Hanson's rhetoric—she railed against the danger ostensibly posed by asylum seekers coming to Australia by sea—had gained enough traction that the leading political parties found it necessary to court the anti-immigrant vote. In 2001, a Liberal government refused entry to a Norwegian freight ship that was carrying more than four hundred rescued refugees. Within months, both of the leading parties had signed on to a policy known as the Pacific Solution: migrants who came by sea would now be detained offshore. Following a 2013 election, the policy was militarized, in both rhetoric and implementation. It was now known as Operation Sovereign Borders, and it deployed the Australian military to enforce a zero-tolerance policy toward maritime arrivals.
In a 2016 piece in the Times, the Australian journalist Julia Baird called the offshore detention centers "Australia's asylum gulag." It would have been more accurate to call them concentration camps. Before being transported to Manus, Boochani and other asylum seekers were issued identical oversized T-shirts and shorts and issued an identification number. In his description of being transported to Manus, Boochani writes:
And then they call out my number: MEG45. Slowly but surely I must get used to that number. From their perspective, we are nothing more than numbers. I will have to forget about my name. My ears start ringing when they call out my number. I try to use my imagination to attribute some new meaning to this meaningless number. For instance: Mr MEG. But there are a lot of people like me.
These people would be piled into corrugated-metal hangars, which were partitioned into tiny rooms with ineffectual giant fans. Some of Boochani's most vivid descriptions concern the smells of the camp: the unrelenting odor of men's bodies in extreme heat, the inescapable smell of foul breath in close quarters. The highest number of men—it was all men, many of them separated from their families—in the camp at one time was more than thirteen hundred, in January, 2014.
The offshore detention centers on Manus and Nauru islands were closed in 2008, under the Labor Prime Minister Kevin Rudd, then reopened by the next Labor government, in 2012. Politicians framed the camps as both a deterrent measure and, consequently, a humanitarian one: in 2015, Prime Minister Tony Abbott claimed that the Pacific Solution saves lives at sea. Rudd returned to the office of Prime Minister in 2013, and he announced that no refugee arriving by boat would ever be allowed to settle in Australia. The language Australians used to describe people in need of international protection changed from "asylum seekers" to "illegal maritime arrivals." (International law guarantees the right to seek asylum, regardless of the mode of transport or exact location of arrival.) Another phrase crept into Australians' vocabulary: "queue jumpers" (based on the myth that asylum seekers are cutting in front of other immigrants).
In 2016, the Papua New Guinea Supreme Court ruled that Manus was illegal because it violated the constitutionally guaranteed right to liberty. In 2017, the United States accepted its first group of refugees from Manus—twenty-five people, which was far fewer than had been initially negotiated—and early last year took fifty-eight more. Also in 2017, the camp at Manus was officially closed: electricity and water were disconnected and the guards left. But hundreds of the men remain on the island, in what the Australian government calls "guarded centres," in legal limbo.
Boochani's book contains many descriptions of the varied tortures of waiting. Early on, describing the boat trip, he writes, "Living in anticipation vexes me sorely, it has always vexed me. The sense of cessation and inertia. It's even worse when one's own anticipation is compounded by that of others. At this particular moment we are all staring fixedly at one point, all desiring the same thing." Later, about to be taken to Manus, he writes, "I have always despised waiting, always despised glancing at whatever is around me, staring for hours while I wait for something worthless. . . . I want the fate that awaits me. I want it to arrive immediately." There is still no end in sight to Boochani's waiting >>>
Masha Gessen, a staff writer at The New Yorker, is the author of ten books, including, most recently, "The Future Is History: How Totalitarianism Reclaimed Russia," which won the National Book Award in 2017.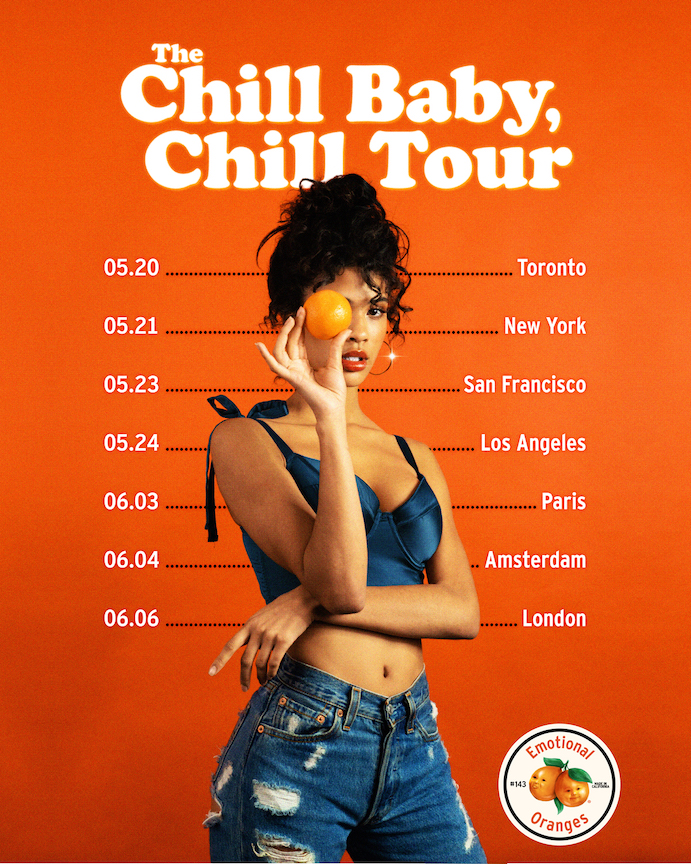 Tour dates and tickets here.
Avant Garden Records: When Adele's vocal coach and Drake's engineer met at a bat mitzvah in 2017, the band Emotional Oranges was instantly born. A mix of funky bass, break-beat drums and jazzy guitars creates a refreshing, retro sound with futuristic undertones. Michelle Obama and Guy Fieri have both publicly championed the band. Their debut singles, "Motion" and "Personal" immediately created a cult following, generating over 12 million streams globally. "Motion" was made the official theme song for Ru Paul's Drag race in 2018.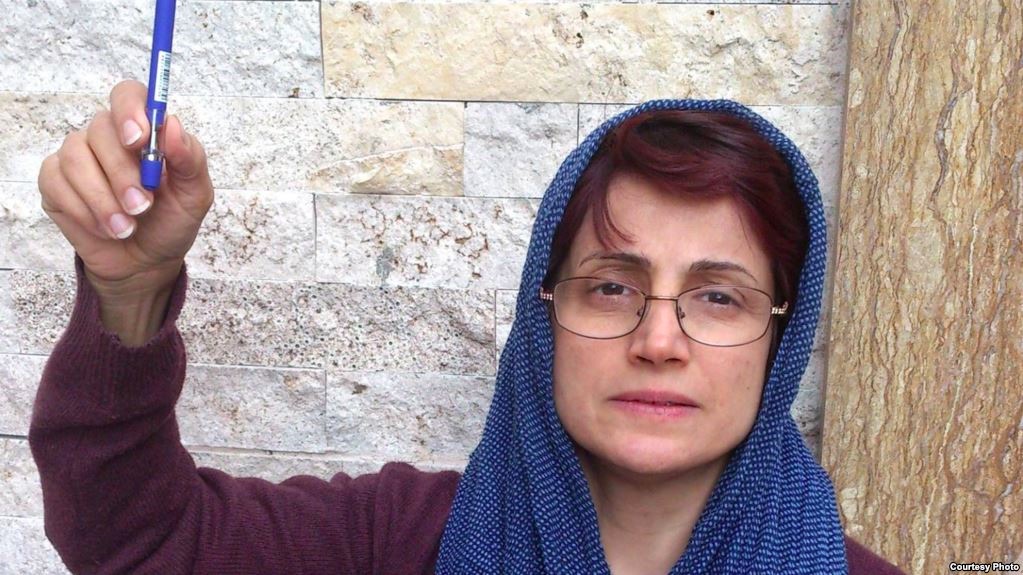 I just want to make sure you saw my message from March about Nasrin Sotoudeh, a human rights lawyer and mother who has dedicated her life to defending human rights. If you haven't taken action yet, please take a minute to stand up for Nasrin now.
Nasrin was targeted in the past — but when Amnesty supporters worked together, back in 2013, we were able to secure her early release from prison.
We need to work together again to reunite Nasrin with her children, help free Nasrin!
TAKE ACTION, GET NASRIN BACK TO HER FAMILY!
Margaret Huang
Executive Director
Amnesty International USA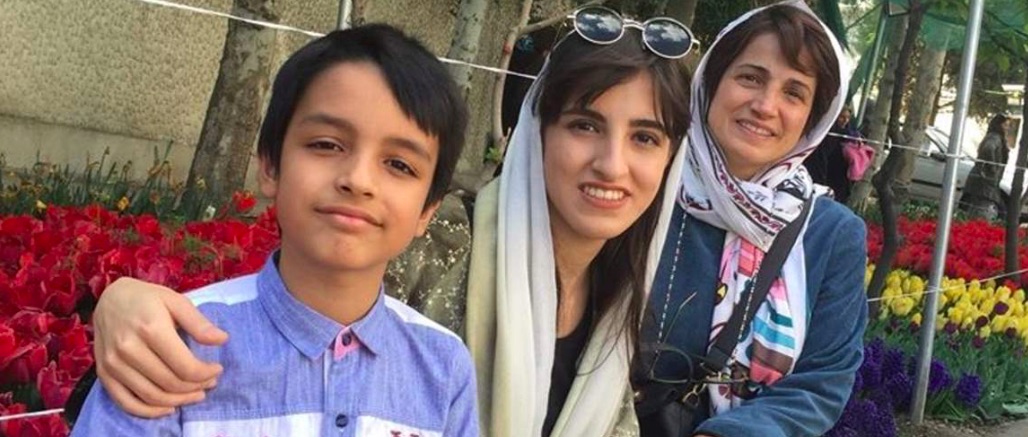 Amnesty Internatonal
Iranian lawyer and women's rights activist Nasrin Sotoudeh's heartbreaking letters from prison reveal the trauma inflicted on families by the government that claims to protect them...
March 2011
Hello my dearest Nima,
Writing a letter to you is so very difficult. How do I tell you where I am when you are so innocent and too young to comprehend the true meaning of words such as prison, arrest, sentence, trial and injustice?
Last week you asked me, "Mummy, are you coming home with us today?" and I was forced to respond in plain view of the security agents: "My work is going to take a while so I'll come home later." It is then that you nodded as if to say you understand and took my hand, giving it a sweet, childlike kiss with your small lips.
How do I explain that coming home is not up to me, that I am not free to rush back to you, when I know that you had told your father to ask me to finish my work, so I can come back home? How do I explain to you that no "work" could ever keep me so far away from you?
My dear Nima, in the past six months, I have found myself crying uncontrollably on two occasions. The first time was when my father passed away and I was deprived of grieving and attending his funeral. The second was the day you asked me to come home and I couldn't come home with you.
My dearest Nima, in child custody cases, the courts have repeatedly ruled that, when it comes to visitation rights, a three-year-old child cannot be left with their father for 24 consecutive hours. This [is] because the courts believe that young children should not be away from their mothers for 24 hours and that such a separation would result in psychological damage to a child.
This same judiciary, however, is ignoring the rights of a three-year-old child under the pretext that his mother is seeking to "act against the national security" of the country.
It goes without saying that I was not seeking in any way to "act against national security" and that, as a lawyer, my only objective has always been to defend my clients under the law.
I want you to know that, as a woman, I am proud of the heavy sentence rendered against me and honoured to have defended many human rights defenders. The relentless efforts by women have finally proven that regardless of whether we support or oppose them, we can no longer be ignored.
Hoping for better days,
Maman Nasrin
April 2011
To my dearest Mehraveh, my daughter, my pride and joy,
It has been six months since I was taken away from you my beloved children. Throughout these six months we were only allowed to see each other a few times and, even then, in the presence of security agents. During this time, I was never allowed to write to you, to receive a picture, or even meet with you freely without any security restrictions. My dear Mehraveh, you, more than anyone, understand the sorrow in my heart and the conditions under which we were allowed to meet. Each time, after each visit and every single day, I struggle with the notion of whether or not I have taken into consideration and respected my own children's rights. More than anything, I needed to be sure that you, my beloved daughter, whose wisdom I very much believe in, did not accuse me of violating my own children's rights.
I once told you: "My daughter I hope you never think that I was not thinking of you or that it was my actions that deserved such punishment… Everything I have done is legal and within the framework of the law." It was then that you lovingly caressed my face with your small hands and replied: "I know, Mummy… I know…" It was on that day that I was freed of the nightmare of being judged by my own daughter.
My dearest Mehraveh, just like I was never able to disregard your rights and always sought to protect them to my fullest capacity, I was also never able to disregard the rights of my clients.
How could I abandon the scene as soon as I was summoned by the authorities, knowing that my clients were behind bars? How could I abandon them when they had hired me as their legal counsel and were awaiting their trial?
It was my desire to protect the rights of many, particularly the rights of my children and your future, that led me to represent such cases in court. I believe that the pain that our family and the families of my clients have had to endure over the past few years is not in vain. Justice arrives exactly at the time when most have given up hope.
I miss you my dearest and send you one hundred kisses,
Maman Nasrin
September 2018
Hello my dearest Nima,
I don't know how to start this letter. How can I forget that this year you have to start school without me and even without your father by your side, and simply tell you that this year is a normal year like any other year? How can I ask you to go to school on time, do your homework, study well and be a good boy until we return?
I would hate to speak such words to you as a mother because I know that in your young life you have had to live through the constant trauma of visiting me in prison, being prohibited from visiting me, and the fear of injustice.
As a mother, I cannot ask you to forget my existence and think to yourself that you do not have a mother at all, just so that I can pursue my work and struggle [for human rights] with a clear conscience. May I never be this cruel to you.
***
My job as a lawyer, which is under constant attack in Iran, is pulling me – and this time also your father – into the storm of injustice and cowardice that is destroying the community of Iranian lawyers.
These days I am thinking about you constantly, about how lonely you must feel and about our dear Mehraveh, who has made us proud and who is now forced to care for you and be your mother and father at the same time.
I am sending you my tears of love, hoping they make the injustice of our time a little more tolerable for you.
I send you thousands of kisses for I have not seen you in far too long.
Maman Nasrin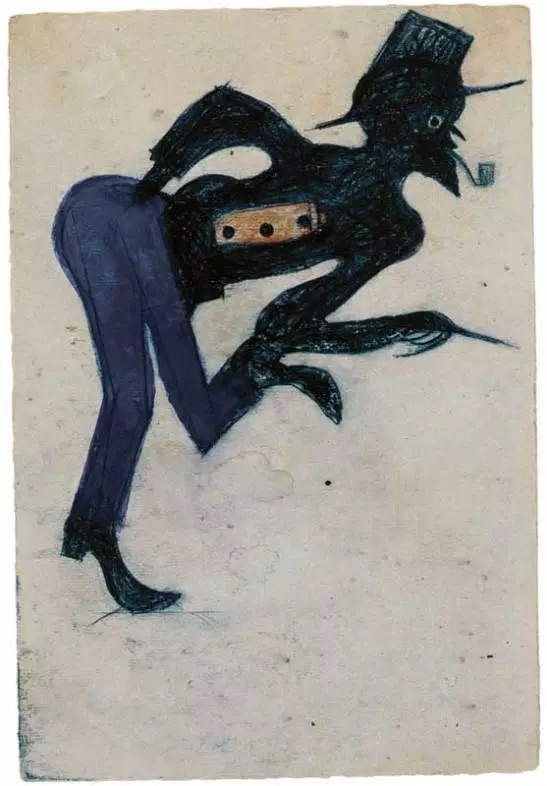 Man in Blue Pants: paint, pencil, colored pencil and charcoal on cardboard.
Vox Populi: William "Bill" Traylor (1853–1949) was an African-American self-taught artist from Lowndes County, Alabama. Born into slavery, Traylor spent the majority of his life after emancipation as a sharecropper. It was only after 1939, following his move to Montgomery, Alabama that Traylor began to draw. At the age of 85, he took up a pencil and a scrap of cardboard to document his recollections and observations. From 1939 to 1942, while working on the sidewalks of Montgomery, Traylor produced nearly 1,500 pieces of art.
While Traylor received his first public exhibition in 1940, it wasn't until the late 1970s, thirty years after his death, that his work finally began to receive broader attention. Recent acceptance of Traylor as a significant figure of American folk and modern art has been founded on the efforts of Charles Shannon, as well as the evolving tastes of the art world. Shannon, who first encountered Traylor's work in 1940, brought Traylor to the attention of the larger art world. Since then, public and scholarly perception of Bill Traylor's life and work has been in constant evolution. First held up as an example of "primitive" or "outsider" art, Traylor now holds a central position in the fields of "self-taught" and modern art.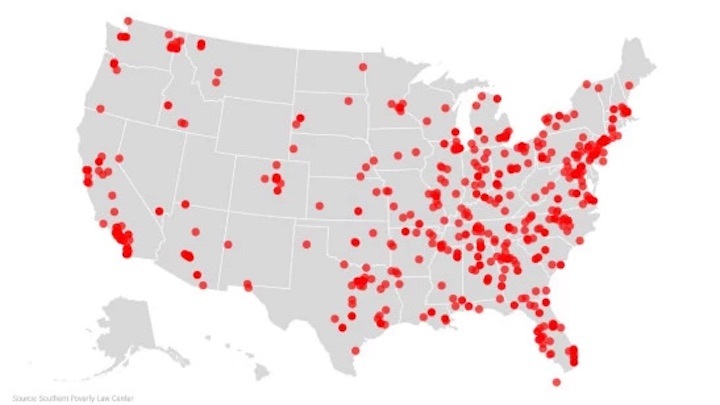 Vox Populi: Each year since 1990, the Southern Poverty Law Center (SPLC) has published an annual census of hate groups operating within the United States. The number is a barometer, albeit only one, of the level of hate activity in the country. The hate map, which depicts the groups' approximate locations, is the result of a year of monitoring by analysts and researchers and is typically published every January or February. It represents activity by hate groups during the previous year.
What is a hate group?
The Southern Poverty Law Center defines a hate group as an organization that – based on its official statements or principles, the statements of its leaders, or its activities – has beliefs or practices that attack or malign an entire class of people, typically for their immutable characteristics. We do not list individuals as hate groups, only organizations.
The organizations on our hate group list vilify others because of their race, religion, ethnicity, sexual orientation or gender identity – prejudices that strike at the heart of our democratic values and fracture society along its most fragile fault lines.
The FBI uses similar criteria in its definition of a hate crime:
[A] criminal offense against a person or property motivated in whole or in part by an offender's bias against a race, religion, disability, sexual orientation, ethnicity, gender, or gender identity.
We define a "group" as an entity that has a process through which followers identify themselves as being part of the group. This may involve donating, paying membership dues or participating in activities such as meetings and rallies. Individual chapters of a larger organization are each counted separately, because the number indicates reach and organizing activity.B
What is the SPLC's hate map?
Each year since 1990, the SPLC has published an annual census of hate groups operating within the United States. The number is a barometer, albeit only one, of the level of hate activity in the country. Other indicators of hateful ideas include the reach of hate websites, for example. The hate map, which depicts the groups' approximate locations, is the result of a year of monitoring by analysts and researchers and is typically published every February. It represents activity by hate groups during the previous year.
Tracking hate group activity and membership is extremely difficult. Some groups do everything they can to obscure their activities, while others grossly over-represent their operations. The SPLC uses a variety of methodologies to determine the activities of groups and individuals. These include reviewing hate group publications and reports by citizens, law enforcement, field sources and the news media, and conducting our own investigations.
To access the SPLC Hate Map, click here.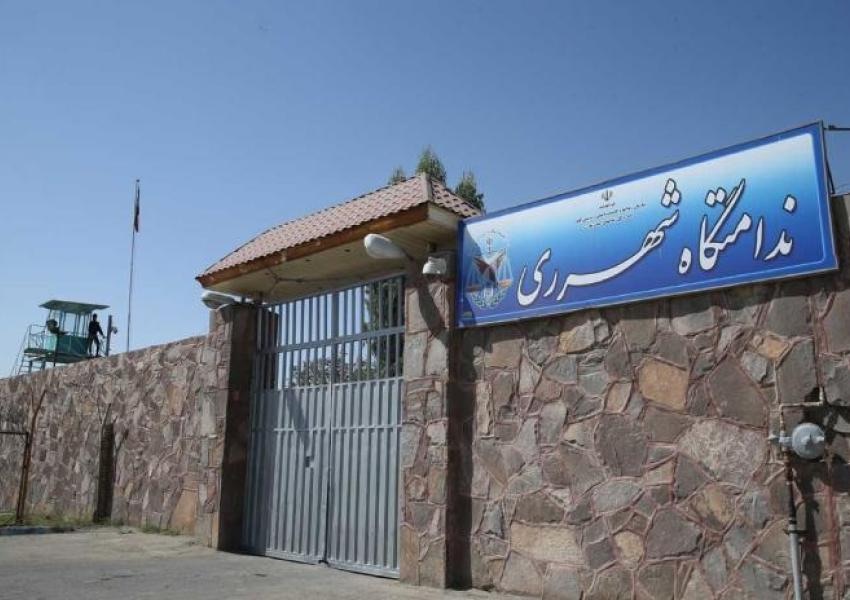 Amnesty International: Responding to reports that Iranian prison guards in riot gear beat prisoners and used tear gas, firearms and pepper spray during raids inside the women-only Shahr e-Rey prison (commonly known as Gharchak) in Varamin outside Tehran that began last night, Amnesty International's Research and Advocacy Director for the Middle East and North Africa, Philip Luther, said:
"The reports of the Iranian prison guards' reckless and heavy-handed response to protests at Shahr-e-Rey prison are deeply alarming. Many prisoners were reported to have received hospital treatment for the effects of tear gas.
"Prison authorities must refrain from using unnecessary and excessive force against prisoners. Instead of carrying out violent raids against prisoners, they should be working to address the inhumane and squalid conditions at Shahr-e Rey prison."
Background:
The unrest began during the night of 7 February when the women prisoners tried to raise awareness that one of them needed medical care. Reports also suggest that some prisoners organized a protest by banging their hands on the doors of their cells in protest against the fact that their names have not been included on a list of thousands of prisoners due to be pardoned for the 40th anniversary of the Islamic Revolution.
Amnesty International has previously documented the appalling ill-treatment of prisoners at Shahr-e Rey prison. The facility is a disused chicken farm that holds prisoners in overcrowded and unhygienic conditions, without access to safe drinkable water, decent food, medicine and fresh air.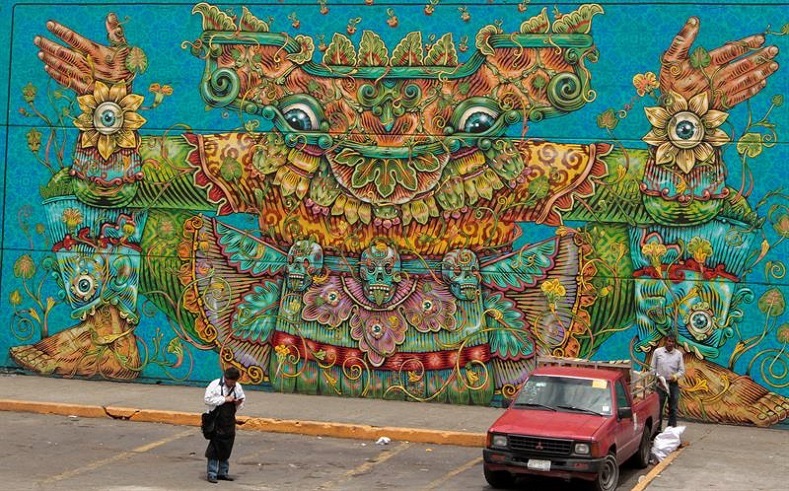 The second phase of the Central de Muros begins with 50 artists from around the world racing to finish 39 murals.
Voxpopuli: Mexico City's Central de Abasto, the world's largest market, is visited by half a million people every day. With the help of the United Nations, the state of Mexico is endeavoring to make it the world's biggest urban art exhibition by covering the walls with murals by dozens of artists. Administrators have reported a decrease in vandalism and graffiti near the murals >>> Photos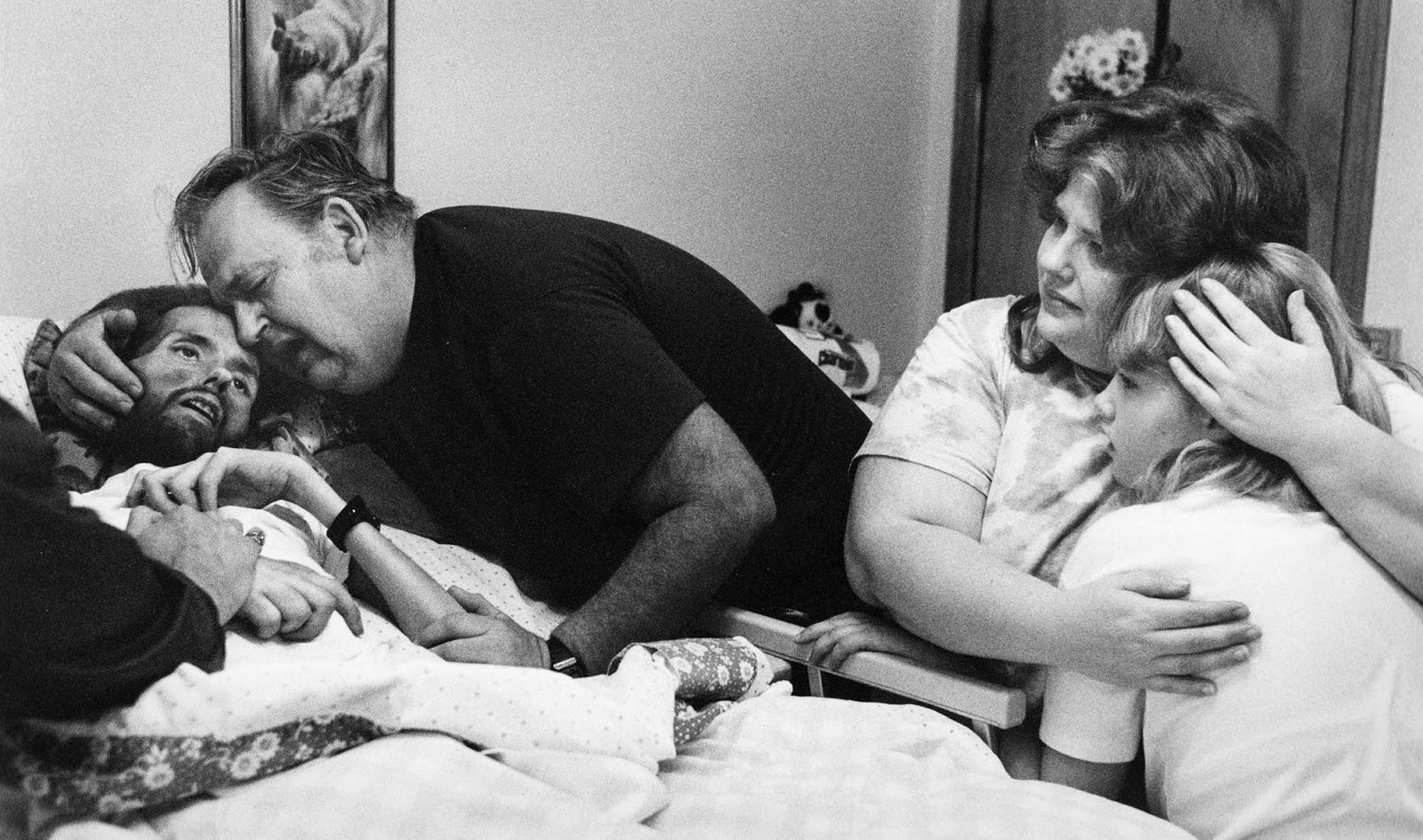 David Kirby, on his deathbed in Ohio, 1989.
The photograph that changed the face of AIDS
By Therese Frare
Vox Populisphere: This picture is widely considered the photo that changed the face of AIDS. It showed AIDS victims as humans and people with families. The biggest opponents of doing anything about AIDS, anything at all, were conservatives trumpeting family values. This picture showed that HIV has everything to do with family values and to have family values you have to value families.
In November 1990 LIFE magazine published a photograph of a young man named David Kirby — his body wasted by AIDS, his gaze locked on something beyond this world — surrounded by anguished family members as he took his last breaths. The haunting image of Kirby on his death-bed, taken by a journalism student named Therese Frare, quickly became the one photograph most powerfully identified with the HIV/AIDS epidemic that, by then, had seen millions of people infected (many of them unknowingly) around the globe. David Kirby was born and raised in a small town in Ohio. A gay activist in the 1980s, he learned in the late 1980s — while he was living in California and estranged from his family — that he had contracted HIV. He got in touch with his parents and asked if he could come home; he wanted, he said, to die with his family around him. The Kirbys welcomed their son back.
The photographer Therese Frare recalls:
On the day David died, I was visiting Peta (one of David's caretakers in Pater Noster House). Some of the staff came to get Peta so he could be with David, and he took me with him. I stayed outside David's room, minding my own business, when David's mom came out and told me that the family wanted me to photograph people saying their final goodbyes. I went in and stood quietly in the corner, barely moving, watching and photographing the scene. Afterwards I knew, I absolutely knew, that something truly incredible had unfolded in that room, right in front of me.
Early on, I asked David if he minded me taking pictures, and he said, 'That's fine, as long as it's not for personal profit.' To this day I don't take any money for the picture. But David was an activist, and he wanted to get the word out there about how devastating AIDS was to families and communities. Honestly, I think he was a lot more in tune with how important these photos might become.
When published by LIFE, the image shocked the national conscience in the United States with its graphic imagery. While the public knew that AIDS was deadly, many only knew of its effects in the abstract. AIDS was still thought to be a "gay" disease and much of the populace was relatively uninformed about the effects of the illness. The image also helped the greater public to connect to the family's grief at losing their son. The original caption on LIFE magazine: After a three-year struggle against AIDS and its social stigmas, David Kirby could fight no longer. As his father, sister and niece stood by in anguish, the 32-year-old founder and leader of the Stafford, Ohio, AIDS Foundation felt his life slipping away. David whispered: "I'm ready", took a last labored breath, then succumbed.
David Kirby died in April 1990, only 32 years old, seven months before the photo was published. By some estimates, as many as one billion people have seen the now-iconic Frare photograph that appeared in LIFE, as it was reproduced in hundreds of newspaper, magazine and TV stories — all over the world — focusing on the photo itself and (increasingly) on the controversies that surrounded it >>>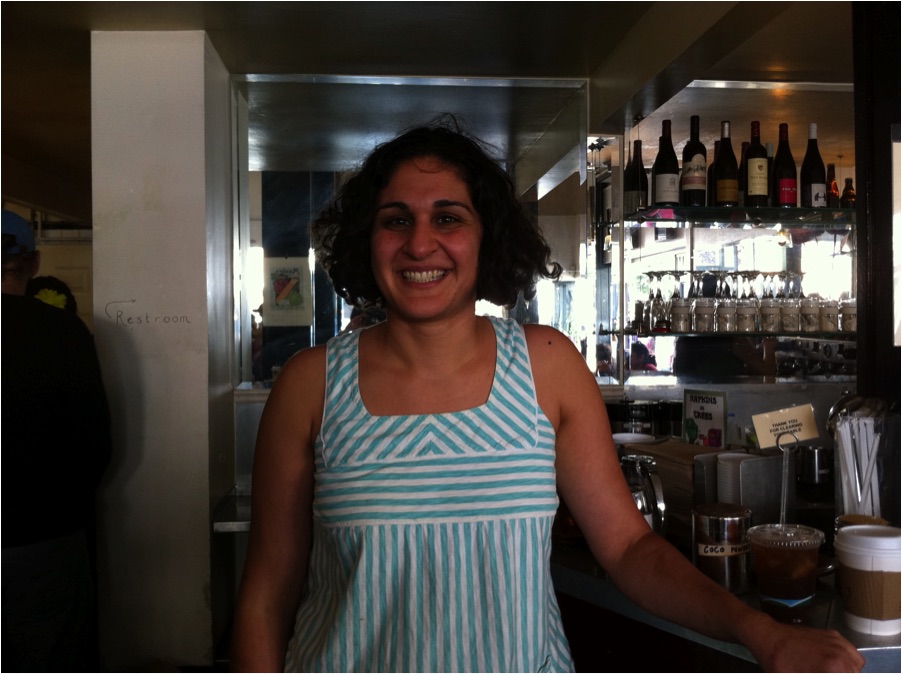 KCRW: In April 2018, San Francisco Bay Area cook Samin Nosrat organized bake sales across the country to raise funds for the victims of the March 11th tsunami in Japan. Her goal was to surpass the $23,000 she helped raise at a similar event last year for the earthquake in Haiti. Stunning even her own hopes of quadrupling that figure, Bakesale for Japan raised $140,000—more than six times that amount.
So what's on tap for this vibrant community organizer, who also cooks, teaches and writes? Like a productive chef, Samin has many things cooking at the moment—she just finished organizing another Pop-Up General Store, teaching a class in Understanding Acid, and is preparing for a special Tartine After Hours dinner today featuring cook/food videographer Daniel Klein of Perennial Palate. Her next big undertaking will be Eating for Education, a campaign to broaden the reach of The Edible Schoolyard founded by Alice Waters. It will be showcased at Chez Panisse's 40th anniversary celebrations taking place August 26-29th.
Broadly speaking, Eating for Education aspires to educate the public about such things as where food comes from, how to prepare it, its interaction with culture, and growing food in a socially and environmentally responsible way >>>