Public Page
Follow
Jahanshah Javid
Age: 57 |
Birth City: آبادان |
Joined on October 02, 2012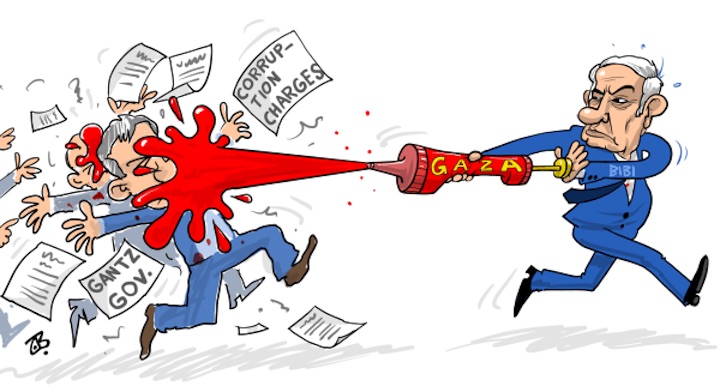 Cartoon by
Emad Hajjaj
End the Blockade, Aid Gaza's Economy
Lead editorial
Haaretz: For two days now, Israelis have been caught in an absurd trap; they have seen that the Gaza Strip has come to envelop Israel just as much as Israel envelops the Gaza Strip. Not only were many of them forced to stay home from school and work, and constantly feared a rocket strike, they also had to worry that Hamas would join in the conflict alongside Islamic Jihad and the clash would become an all-out war between Gaza and Israel.
This danger still exists. A fragile balance of deterrence exists between Israel and the Gaza Strip, and any upsetting of this balance has the potential to deteriorate into a protracted and pointless war. The Shin Bet security service and the Israel Defense Forces certainly demonstrated impressive capabilities in locating and killing Baha Abu al-Ata and his wife in a "surgical" operation, but the high economic cost and toll on morale brought on by this action only underscores the question of what exactly is gained by targeted killings. It has been clear for decades that assassinating terrorist leaders and commanders does not affect their organizations' ability to strike at Israel, nor does it alter their policies. These are not cells that are dependent upon a single commander and will fall apart if that person is eliminated.
But in the absence of a policy aimed at finding a practical and agreed-upon solution with the Palestinians, the government is offering its citizens false substitutes such as targeted assassinations, collective economic punishment, draconian restrictions on movement and empty bluster about military power. The political leadership, the IDF and the Shin Bet themselves probably have little faith in the usefulness of any of these measures. The IDF has long stated quite clearly that there is no military solution to the Gaza problem. The Shin Bet has supported and continues to support easing of the blockade, and even the prime minister recognizes the need for at least an economic solution that will reduce the potential threat from Gaza, and was persuaded to allow an influx of millions of dollars to Gaza to enable Hamas to guarantee workers' salaries and aid to needy families.
Hamas's restraint, so far, from joining in the violent response from Islamic Jihad to the death of Abu al-Ata can be ascribed in large part to pragmatic considerations, chiefly its desire to preserve its standing as the group that can provide for the local population's needs. This policy and Hamas's consent to the cease-fire conditions formulated in Cairo, manifested in part by the prevention of rocket fire into Israel, shows that the equation of "economics in return for quiet" can work.
Israel, which has learned to distinguish between Hamas and Islamic Jihad, and is avoiding hitting Hamas targets this time, must expand the understandings and agreements with Hamas, give it the economic tools to run the Gaza Strip and lift the blockade that paradoxically ends up strengthening the most extremist movements. The present government has shown that it is incapable of this. Until it is replaced, Israelis will go on living between one rocket barrage and another.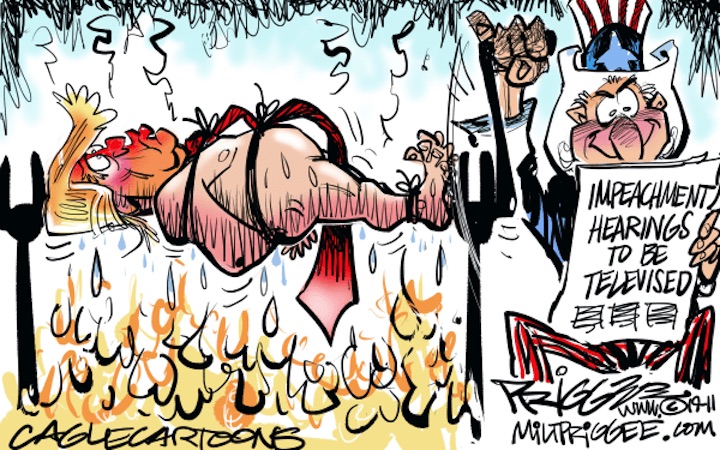 Cartoon by
Milt Priggee
Trump impeachment hearings today will echo through the ages
CNN: The gravity and drama of the first televised impeachment hearings into Donald Trump's presidency on Wednesday will imprint themselves on history and reverberate far from Washington.
The most crucial stage of the Ukraine investigation so far has profound implications beyond the political and personal reputation of Trump and the question of whether he abused his power by seeking political favors from a foreign power.
His fate will have sweeping consequences for the future understanding of powers vested within the presidency itself. The hearings will test whether the ancient machinery of US governance can effectively investigate a President who ignores the charges against him and fogs fact in defining a new post-truth political era. And notwithstanding Trump's current Republican firewall, the hearings will begin to decide whether a presidency that has rocked America and the world will reach its full natural term.
The fact that there is an impeachment process at all -- and a debate over whether the President is so corrupt he should be ousted between elections -- is in itself something of a national tragedy. There's a reason why Gerald Ford called the Watergate scandal that led to the resignation of President Richard Nixon in 1974 before he was formally impeached, a "long national nightmare."
The next few months will scar America for years to come. As the Bill Clinton and Andrew Johnson impeachments did before it, this process will reflect and intensify the ideological civil war that is tearing at national unity and threatening the nation's forward momentum.
Democratic leaders, who long resisted demands from their party's liberal activists to impeach Trump, are taking a considerable risk by embarking on this momentous constitutional road. Given the explosive revelations about Trump's conduct in Ukraine however, they may have had little political choice.
In all likelihood, Republican senators will not vote to convict and oust Trump, opening the possibility of a political backlash. It's just not clear yet whether Democrats or the GOP would come off worse. Trump is likely to view an eventual escape from censure as a validation of his unrestrained behavior and a license to continue to test constitutional customs.
"I've always thought that the strongest argument for impeachment was also the strongest argument against it, which is, if you don't impeach a president who commits conduct of this kind, what does that say to the next president about what they can do and to the next Congress?" House Intelligence Chairman Adam Schiff said in an interview with National Public Radio on Tuesday.
"At the same time, if you do impeach, but the President is acquitted, what does that say to the next president? The next Congress? There's no good or simple answer," he said.
Yet for all the bitterness and uncertainty that it stirs, the impeachment process is also a reaffirmation and test of the democratic codes of self-government first set down in Philadelphia nearly two-and-a-half centuries ago.
It will provide the most significant judgment yet on a riotous presidency that has already skipped past one existential scandal in the Russia election meddling scheme.
The Democratic charge that could see Trump shamed as only the third impeached President in history could hardly be more grave. He is effectively accused of committing a crime against the nation itself and the political system that guards its freedoms.
Specifically, Democrats charge Trump with conspiring with a foreign power to influence a US election, an offense many observers believe satisfies the impeachable standard of "Treason, Bribery or other high crimes and misdemeanors."
The eventual case may encompass campaign finance offenses, the flouting of his presidential oath to uphold the law and the Constitution and allege obstruction over his withholding of witnesses and evidence. In more symbolic terms, it would validate the fears of America's founders of one of the greatest threats to their democratic experiment.
"History and experience prove that foreign influence is one of the most baneful foes of republican government," wrote the first President, George Washington, in his farewell address >>>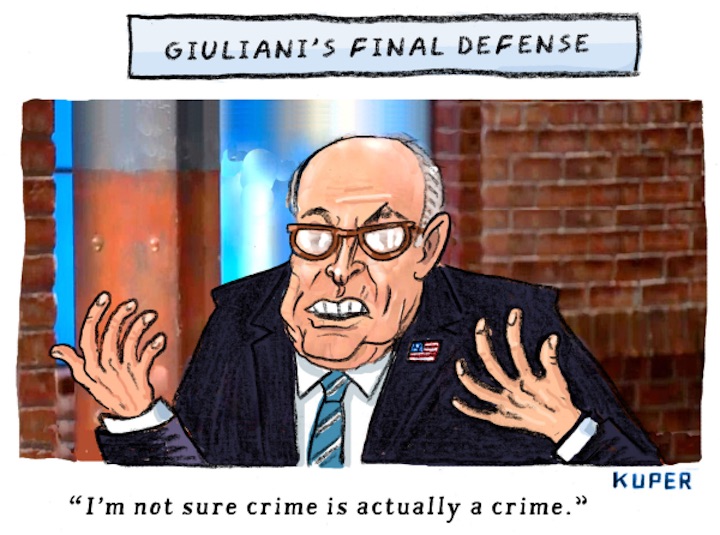 Cartoon by
Peter Kuper
All of Trump's Defenses Against Impeachment Are Doomed
TIME: We've reached the part of this tired charade where even those who've tried to escape the obvious conclusion now know that the emperor has no clothes. The mounting evidence from career diplomats, and Trump's own political appointees, has laid bare his self-serving ploy in Ukraine.
Many people have become numb to this Administration's wrongdoing after almost three years of constant scandal. Some feel that no matter what Trump does, he'll never be held accountable. Why should they invest time in today's awful news, when it will give way in a few days or weeks without anything changing?
This is the challenge the Democrats face as they open public impeachment hearings this week. Can they get the country to pay attention? Can they produce a coherent narrative that will help people understand this most serious of Trump Administration debacles?
Trump has, per usual, thrown out a barrage of defenses, hoping something will stick. So far nothing has. Here are the key defenses he's tried and those he'll likely move on to next, and why they all fail.
The Defense: Trump's July 25, 2019, call with new Ukrainian President Volodymyr Zelensky was "perfect."
The Reality: Despite what Trump has claimed repeatedly, anyone who followed the president's directive to "read the transcript"— actually a memo of the conversation that at least one witness has told Congress excluded some pertinent information — knows that even this sanitized version of the President's call exposes the scheme to public view. Rudy Giuliani, Energy Secretary Rick Perry, and Trump appointees Ambassador to the E.U. Gordon Sondland and Special Representative for Ukraine Kurt Volker worked toward the call where Trump would tell Zelensky, "I would like you to do us a favor" and ask for the announcement of an investigation that everyone now knows was about Joe Biden and his son. Trump was intent on extracting the favor before he would permit the purchase of American military equipment and release over $400 million in aid to Ukraine, which suffered the loss of 13,000 people in five years during the conflict with Russia, and agree to meet with Zelensky. Far from a perfect call, it was a scheme to have a foreign country intervene in our election. It was so far off the mark that when White House officials learned about it, they stashed the record of it on a highly classified server, apparently in hopes it wouldn't come to light. You don't have to cover up legitimate government operations.
The Defense: The whistleblower must come forward and their identity must be exposed.
The Reality: Trump has called for the whistleblower's name to be disclosed, but whistleblowers aren't required to come forward and there are good reasons to protect them when they choose not to. Whistleblower laws protect the identity of these anonymous truthtellers so they can expose government abuse and fraud without subjecting themselves to workplace reprisals or worse. Even Senator Chuck Grassley, a Trump ally, said the whistleblower's identity should be protected. Whistleblowers are tipsters whose information leads to opening an investigation. If the tip is untrue, the investigation will not pan out. But if it is — and virtually everything the whistleblower in this case said has been confirmed — then they have done an enormous service to the country. Here, aid for Ukraine was released just days short of a scheduled announcement by Zelensky on opening an investigation that could have affected the course of our future election. This is precisely what our founding fathers wanted to prevent when they condemned foreign influence in our elections. If the whistleblower isn't a firsthand witness who'll testify at trial, the tip ends their involvement. There isn't a requirement in criminal cases that prosecutors disclose their identity if they don't testify. And outing the whistleblower could deter future whistleblowers from coming forward >>>
Joyce White Vance is distinguished professor of the practice of law at the University of Alabama, a former U.S. Attorney for the Northern District of Alabama and an NBC News and MSNBC legal analyst.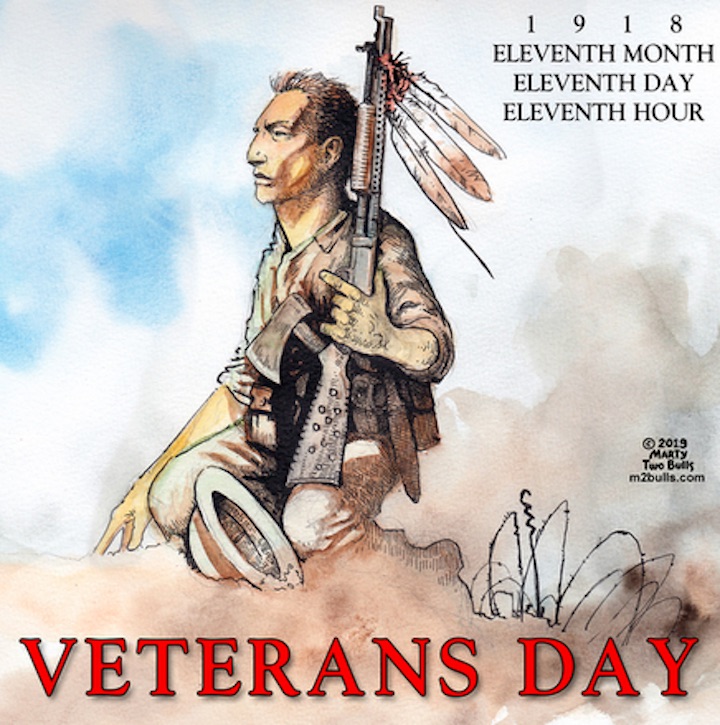 Cartoon by
Marty 2 Bulls
Documentaries tell indigenous military veterans' 'largely untold story'
The Spectrum: Native Americans have the highest per-capita U.S. military service rate out of any group in America.
This fact is widely unknown to the public, but WNED documentaries are highlighting the stories of indigenous people across native tribes who enlist in large numbers to fight for the government that sought to eradicate their cultures centuries ago.
On Thursday, PBS affiliate WNED hosted the first screenings of its new documentary "The Warrior Tradition," and short film "Art, Honor & Service." Both films document the history of indigenous people who served in the U.S. military through interviews and personal accounts. Roughly 200 viewers attended the screenings in WNED's banquet center.
The stories in the feature-length film "The Warrior Tradition" span World War I to modern-day military conflicts.
In addition to depicting the strength of native veterans and indigenous people as a whole, "The Warrior Tradition," created by Lawrence Hott, illustrates the hardships indigenous cultures face. The native veterans in the film share inspiring and heartbreaking tales from what they say is the "largely-untold story of Native Americans in the United States military."
"The first thing we thought of was that this was not going to be a film about heroism. We were not going to talk about exploits," Hott said. "It was going to be more about culture."
After the hour-long screening of "The Warrior Tradition," WNED screened local Onöndowa'ga:' (Seneca)filmmaker Caleb Abrams' short film "Art, Honor & Service."
The film highlights Carson Waterman, an Onöndowa'ga:' artist from the Seneca Allegany Territory who was drafted into the Vietnam War. Waterman shares his feelings on fighting for the U.S. government, despite the "forced relocation of the Allegany Senecas" in 1964 in the wake of the construction of the Kinzua Dam. Waterman says his artwork saved his life both during combat and after returning home, where it helped him manage his post-traumatic stress disorder.
Waterman's original artwork was on display and for sale during the screenings.
Both films aim to provide visibility and validity for the hundreds of unique indigenous tribes across the country, featuring unique indigenous characters who shared their feelings about their time in the service.
"What sets [Native Americans] apart and why our service rates are so high in our native communities is because of the warrior tradition," said D.J. Vanas, military veteran and member of the Odowa Tribe who was featured in "The Warrior Tradition." "To us, [serving in the military] is not just a cultural perspective, but it's also an obligation, it's a commitment. And it also connects to our spirituality as well."
The two films gave the veterans a medium to share their stories in a transparent way.
"My primary focus through this whole project was making sure that I was communicating Carson's truth," said Abrams. "I really wanted to make sure that the final product was something that reflected Carson's experiences."
Indigenous audience members viewed the films as informative tools for non-natives.
"I want [non-natives] to know how many veterans the Seneca Nation has throughout its history," said Angela Kennedy, Seneca Nation member and Salamanca, New York resident. "What I really want people to get out of these films is that we're still alive and our culture is thriving."
"The Warrior Tradition's" broadcast premiere is Nov. 11 at 9 p.m. on PBS. Viewers can watch "Art, Honor & Service," along with three other short films about indigenous veterans, on PBS' website.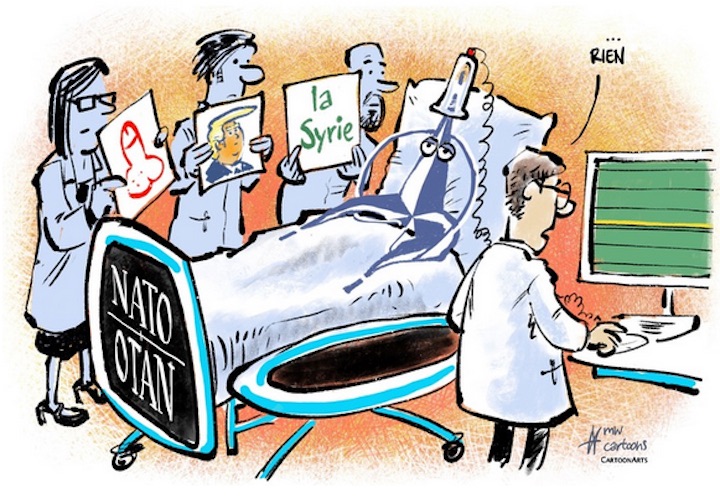 Cartoon by
Maarten Wolterink
Macron saying NATO is 'brain dead' may be right, but he didn't exactly break any news here
Russia Today: Emmanuel Macron says that NATO is "brain dead" but the epithet perhaps applies to him.
The French president has shocked allies by telling the Economist that NATO is in a "state of brain death." He claims this is because of US and Turkish unilateralism: not only has Trump shown himself to be a NATO-skeptic, demanding that European allies pay more for American weapons, but also Turkey, with tacit US backing, has attacked the Kurds in Syria, Europe's allies, without consulting the Europeans.
However, several things about this statement indicate that Emmanuel Macron has lost the ability to think, if by thinking we mean making sure that one does not say things which are so self-contradictory that they do not make sense.
The first thing to note about this outburst is that Macron is copying the words of his mentor, Jacques Attali, who last month said "NATO is dead." Attali also proposed the same solution as Macron later did – the creation of an autonomous European military capacity, independent of NATO.
Jacques Attali, an ex-Marxist prophet of globalisation who was the first head of the European Bank for Reconstruction and Development until his lavish overspending caused him to resign in disgrace, is a very important influence on Macron. He was one of the key people to attend the dinner celebrating Macron's victory in the first round of the presidential elections in 2017. Two years on and the youthful French president seems to have remained a faithful instrument of his master's voice.
Second, neither man has explained why Turkey's unilateral action in Syria is anything new. The US and Britain famously attacked Iraq in 2003: this occurred without the approval of NATO and in the teeth of opposition from France and Germany. France's then president, Jacques Chirac, even indicated that he would veto any resolution authorizing the attack in the UN Security Council. Why was NATO not proclaimed brain dead then?
Also on rt.com NATO's 'free-rider problem': Macron wants independent Europe, but 'it's not something he can change JUST LIKE THAT'
Third, Macron even suggested that Turkey's failure to consult its allies was contrary to the North Atlantic Treaty. Yet the treaty creates no such obligation. Instead, it obliges NATO states to help each other only in the case of an attack against one of them. Turkey is not going to claim that Syria attacked it, so the North Atlantic Treaty does not apply.
Fourth, Macron says that Trump's unilateralism, like Turkey's, has killed off the alliance. But, by making these declarations, he is himself acting unilaterally. Not only did Macron not clear his statement with other NATO allies, they have rebuked him for it. Both the German chancellor and the Secretary-General of NATO Jens Stoltenberg have been vehement in their statements of disagreement with him, Merkel saying that Macron's "sweeping blow" at NATO was not her view and Stoltenberg saying that "European unity cannot replace transatlantic unity."
Fifth, Macron said that Europe had to unite militarily to face up to the threat from Russia, a country he said had taken an authoritarian turn. Can this be the same Russia whose "authoritarian" president Macron invited to his summer residence in August, just before the G7 summit, and with which he said Europe had to build a new "architecture of security and confidence"? Surely the very definition of a brain dead alliance is the one Macron is proposing – in which even he cannot work out in his own head whether Russia is an ally or an enemy.
Sixth, Macron argues that the problem with NATO is that of the free rider. "If the regime of Bashar Assad decides to respond to Turkey, will we be obliged to defend her?" he asked. Yet this problem is not new. When Turkey shot down a Russian fighter over Syria in 2015, the first telephone call Ankara made was to NATO for help, not to Moscow to apologize or to calm things down. Was NATO not brain dead then?
Worse, the problem of the free rider – in which countries belonging to permanent military alliances have an incentive to act irresponsibly, safe in the belief that their allies will defend them – vitiates all international alliances, by definition, and not just NATO. In other words, even if one thinks that Macron is asking the right questions, he can only be giving the wrong answer by proposing a European alliance instead.
Within Europe, there are not only deep differences over who is the enemy – radical Islam for France, Russia for Poland and the Baltic states, Greece and Turkey for each other – but there is also the free rider phenomenon. Poland shamelessly uses the European Union to prosecute its anti-Russian agenda and it would also do so in any putative future European military structure. The only solution to the dilemma Macron has identified is national – the very thing he is intellectually and emotionally incapable of embracing.
Finally, it is disturbing that Macron seems to think that a few words in a newspaper interview are enough to change what is, on the face of it, an intractable situation.
NATO is not just the Washington Treaty, it is also seventy years of military and official infrastructure – a whole archipelago of US military bases across Europe plus of course the billion-dollar headquarters in Brussels with 4,000 staff. It is going to take a lot more than an interview in a newspaper to close this down and, until then, NATO – or rather US power on the European continent – will remain an unavoidable political fact.
It is not realistic to think that Germany or Poland or the Baltic States, all EU members, would agree to detach EU foreign policy from NATO. So the European solution Macron proposes is, in fact, no solution at all. His remarks simply do not make sense.
Emmanuel Macron may be right to say that NATO is brain dead but this is not news. The alliance lost its raison d'être when the Warsaw Pact was dissolved in 1991 and the Soviet threat vanished. In the intervening decades, however, we have come to understand that political brain death is a contagious disease which has now infected all European leaders including, unfortunately, the current occupant of the Elysee Palace.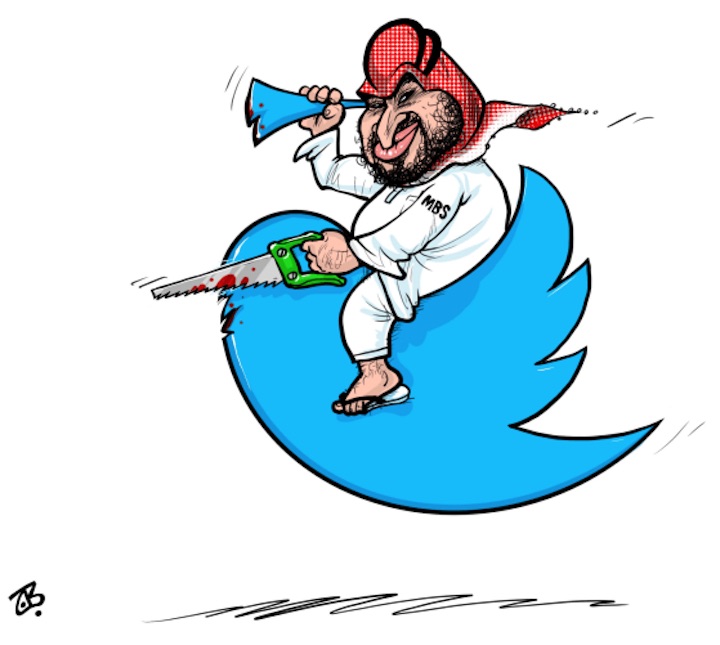 Cartoon by
Emad Hajjaj
Why Spy on Twitter? For Saudi Arabia, It's the Town Square
The New York Times: In Saudi Arabia, where a relatively closed culture leaves citizens few public forums to discuss news and politics, Twitter has become a kind of town square, the place where citizens meet to swap information and debate the latest issues.
Saudi Arabia's absolute monarchy has not banned the site, but it has taken extensive measures to shape the information that appears there and to silence or drown out dissidents who use it to post critical views.
The Justice Department's indictment on Wednesday of two former Twitter employees accused of spying for Saudi Arabia cast rare light on one corner of the vast measures the kingdom has taken to shape what its citizens see when they go online.
Why is Twitter so big in Saudi Arabia?
Saudi Arabia provides no public spaces where citizens can gather to discuss news and politics. And the kingdom's news media are state-owned or controlled, limiting the range of perspectives they carry.
But many Saudi citizens have multiple cellphones and fast internet, which have led them to use Twitter to engage both with the world and with their fellow citizens.
That has given the kingdom one of the world's largest Twitterspheres.
According to one recent report, Saudi Arabia had 9.9 million active Twitter users, the fourth highest in the world, behind the United States, Britain and Japan. But in terms of the percentage of the population using the platform, Saudi Arabia was first, with 37 percent of residents doing so, compared with 18 percent in the United States.
It can seem like everyone in Saudi Arabia is on Twitter: prominent Muslim clerics, well-known journalists, TV stars and even the 83-year-old monarch, King Salman, who has 7.8 million followers.
Jamal Khashoggi, the dissident Saudi writer who was killed by Saudi agents in Istanbul last year, had 1.6 million followers at the time of his death, allowing him to broadcast his views even after he'd been banned from Saudi news outlets. His direct line to fellow Saudis, which the kingdom was powerless to stop, may well have contributed to his death.
The platform's importance has made it a key battleground for the government, which uses it to tout the kingdom's policies, and a range of dissidents at home and abroad who use it to spread criticism of government policies and campaign for the release of political detainees.
Unlike other authoritarian governments in, say, Iran or China, Saudi Arabia has not blocked access to Twitter, perhaps considering it a useful, and relatively harmless, pressure valve for society. Instead, critics and researchers say, it has invested in a range of techniques to influence what Saudis see when they use the platform.
These include hard tactics like arresting or putting on trial prominent Twitter personalities who criticize the government and softer efforts like promoting positive tweets and working to sideline negative ones.
"They can't really block out these websites from the server side, so they have to contest the space," said Alexei Abrahams, a research fellow at the Citizen Lab at the University of Toronto. "If they pour enough resources in, then maybe social media becomes more useful to the regime than to the opposition. I'm not sure we've crossed that threshold yet, but we can't be that far from it."
To shape the online environment, the Saudi government has marshaled armies of accounts to promote pro-government content and attack critical voices, Mr. Abrahams said. These can be automated accounts, known as bots, or accounts run by people working for the Saudi government who use Twitter in a coordinated fashion, according to an investigation published by The New York Times last year.
Acting together, they can promote accounts or hashtags that, say, praise the kingdom's leadership while diluting the presence of critical conversations. That can end up shaping what average Saudis find when they go online.
"You can make it appear that the weight of public opinion lies with the regime," Mr. Abrahams said.
How do Saudi dissidents use Twitter?
Saudi dissidents, many of them abroad, use Twitter to broadcast their views to their countrymen inside the kingdom. They include human rights activists who track detentions, and dissidents like Omar Abdulaziz, who lives in Canada and who posts frequent videos of himself commenting on current events and criticizing Saudi policies.
The Saudi government has tried to shut down these accounts. Mr. Abdulaziz says that his brothers in Saudi Arabia have been detained to pressure him to be quiet and that the Royal Court sent envoys to Canada to try to persuade him to come home and work for the government. He has refused.
The kingdom has also gone after the administrators of anonymous accounts, and it appears that this is why it may have sought to recruit spies inside Twitter.
Ali Alzabarah, one of the men indicted this week, was an engineer who had access to users' personal information. Another, Ahmad Abouammo, could see users' email addresses and phone numbers, sensitive information that could help the government unmask the people behind anonymous accounts.
Both men left Twitter in 2015, and no further efforts by the kingdom to infiltrate social media companies have been uncovered.
The killing of Mr. Khashoggi, a columnist for The Washington Post who criticized the kingdom's leadership, drew international attention to Saudi efforts to silence dissidents.
It appears that the kingdom is still working in cyberspace to promote its views.
"There are still tons of bots out there," said Mr. Abrahams, the researcher.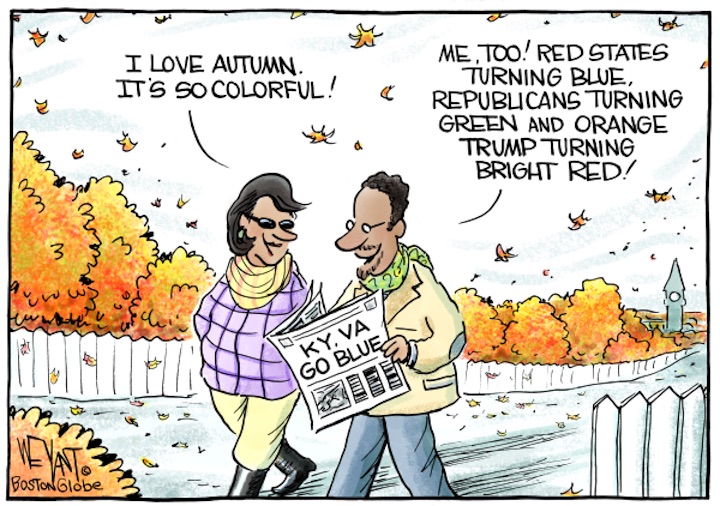 Cartoon by
Christopher Weyant
Trump is in trouble. Tuesday's elections are proof.
By E.J. Dionne Jr.
The Washington Post: President Trump is in a whole lot of trouble. Andy Beshear, who has claimed victory in the Kentucky governor's race, showed that Democrats prosper when they focus on what he called "kitchen-table issues." In Virginia, voters demonstrated that support for gun control is now an asset, not a liability, in American politics.
More broadly: Railing against impeachment and attacking Democrats as "socialists" won't get the job done for Republicans when the GOP finds itself on the wrong end of questions such as health care and education.
Tuesday's elections were terrible for Republicans. Their only major victory came in Mississippi, where they held onto the governorship in the face of a spirited Democratic challenge. But face it: The day Mississippi falls out of the Republican base is the moment when the party goes the way of the Whigs.
Beshear's victory, assuming it holds, was both revealing and important because Trump and incumbent Kentucky Gov. Matt Bevin (R) chose to make the race a referendum on the president. Trump offered a sound bite for the ages when he declared at a Bevin rally on the eve of the election: "If you lose, they're gonna say Trump suffered the greatest defeat in the history of the world. You can't let that happen to me."
Well, it looks like they did. And the contours of Kentucky's voting sent an important message to Democrats as they go into 2020. Mobilizing your natural constituency matters, but so does winning back restive voters who backed the president in 2016, and so does continuing to make inroads into the suburbs.
Beshear did all three.
Turnout in Kentucky's Democratic strongholds was through the roof for an off-off-year election. In Jefferson County, which includes Louisville, Beshear won 186,510 votes, nearly 100,000 more than Bevin. Four years ago, Jack Conway, the defeated Democratic candidate for governor, also carried the county, but with only 112,232 votes — and by half of Beshear's margin.
But Beshear also flipped many rural counties and cut the Republicans' margins in others. Typical was Carter County in eastern Kentucky. The county went for Beshear even though it backed Bevin four years ago and gave Trump 73.8 percent of its ballots in 2016. Breathitt County in Appalachia also flipped, having gone for Bevin and voted 69.6 percent for Trump.
"Andy focused a lot on education and especially health care, and that cut through a lot of the partisanship," said Fred Yang, Beshear's pollster, noting his candidate's criticism of Bevin's efforts to narrow the expansion of Medicaid and the incumbent's fights with the state's teachers.
"In a lot of these counties, the school systems or the hospitals — or both — are the biggest employers," said Fred Cowan, a former Kentucky attorney general and a Democratic political veteran. "The Medicaid expansion helped a lot of people over there."
Finally, Beshear was buoyed by the suburban shift toward Democrats since Trump's election, reflected in his success in taking two key northern Kentucky counties, Campbell and Kenton, in the Cincinnati suburbs that voted for Bevin in 2015 and for Trump a year later.
The flight of suburban voters from the GOP was also central to the Democrats' success in seizing both houses of the Virginia legislature. In an effort likely to be a model for other states, supporters of gun safety rallied against a GOP that had blocked new regulations. Everytown for Gun Safety, founded by former New York mayor Michael Bloomberg, swamped the NRA in spending by about 8 to 1. Democrats also made historic gains in less-watched local contests in Bucks and Delaware counties in the Philadelphia suburbs — a warning sign for Trump, who carried the state narrowly in 2016.
Trump's failure to rally Republicans with his anti-impeachment message in Kentucky — a state the president carried by 30 points and that is home to Senate Majority Leader Mitch McConnell (R), up for reelection next year — should give Republicans pause about a Trump-centric approach to their own political futures.
For Democrats, the lesson is to continue their 2018 midterm successes in highlighting the kitchen-table issues Beshear touted in declaring victory. He called health care "a basic human right," pledged to restore voting rights to some felons and promised to make public education his "central priority."
His catalogue sent what might have been Tuesday's central message: A majority is frustrated with Trump not only because of his obvious transgressions but also because his time in office has been marked by a wholesale retreat from public problem-solving. Voters want elections to be about them, not the narcissist in the White House.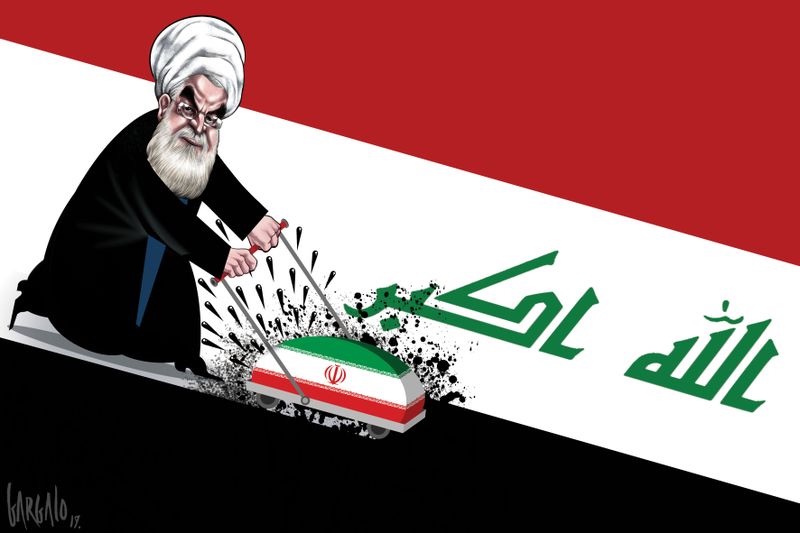 Cartoon by
Vasco Gargalo
The Fight for a New Iraq
By Mina Al-Oraibi
The New York Times: The persistence and magnitude of protests in Iraq since early October and the brutality of Iraqi government forces and militias seeking to crush them have shaken the country. More than 275 protesters have been killed and thousands injured, but the protests continue unabated.
Iraqis initially protested against corruption, unemployment and the failure of the government to deliver services, but after a month of brutal state violence, the protesters have called for the resignation of Prime Minister Adel Abdul Mahdi, a complete overhaul of the political process in the country and disbanding of powerful political factions and their militias, most of which are backed and run by Iran.
The Iraqi government and the political elite have failed to respond in any significant manner to the protesters. On Thursday, Barham Salih, the president of Iraq, promised to draft a new electoral law, claiming that it would allow more young people to join the political process and put an end to the current system of deal-making in government formation. He also promised to reform the country's election commission by bringing in independent experts as its members. And yet these promises were quickly dismissed by protesters as too little, too late — cosmetic changes aimed at upholding a discredited political system.
Most of the protests are taking place in Shia-majority cities. The killing of more than 18 protesters in the holy Shia city of Karbala last week highlight how Shia-majority provinces of Iraq haven't benefited from political parties using "Shia identity" to gain and retain power.
Sign Up for Debatable
Agree to disagree, or disagree better? We'll help you understand the sharpest arguments on the most pressing issues of the week, from new and familiar voices.
The protests and the violent response have shredded the myth of sectarianism as the organizing principle for political power: State-sponsored sectarianism has failed to offer protection and progress to the citizens.
The trouble lies largely in the political system imposed on Iraq by the United States-led alliance in 2003, which fostered the lie that Iraqis did not have a unifying national identity and that their overriding identity was sectarian or ethnic: Shia, Sunnis, Kurds. Apart from isolating the majority of Iraqis who believe in their national identity, these division also isolated Christians, Yazidis, Mandaens and other minorities in Iraq.
In contrast, the young Iraqi protesters have been carrying the Iraqi flag and rejecting all other political and sectarian symbols. Iraqi patriotic songs that were sung in the 1980s during the war with Iran have filled the streets once more. The slogan that has resonated the most is, "We want a homeland," calling for an Iraq that does not suffer from the ills of sectarian divisions or is manipulated by politicians. Another popular slogan insists, "I am going to take my rights myself."
Rather than build on the principles of citizenship after the fall of Saddam Hussein's dictatorship, the political class in Iraq since 2003 worked on a sectarian system of patronage to win political power and profit. It enshrined sectarian identity as an unwritten basis of power-sharing — a Shia prime minister, a Kurdish president and a Sunni speaker of Parliament — solidifying sectarian divisions and undermining meritocracy or electoral legitimacy. Government formation has become a cynical exercise in power brokering based on coalition-building before and after the vote.
A significant section of the Iraqi political class's being beholden to Iran makes things worse. Anger against Iranian influence over the political establishment of the country has increased significantly as credible reports have shown that a majority of killings have been carried out by the militias backed by Tehran.
The mostly Shiite protesters have taken to chanting, "Iran! Out! Out!" Protesters have burned Iranian flags and torn down posters of Iran's supreme leader, Ayatollah Ali Khamenei, who blamed the United States and Western intelligence agencies for the protests in Iraq — and Lebanon — and called upon Lebanon and Iraq to "stabilize these security threats." On Sunday, protesters attacked the Iranian consulate in Karbala.
The protesters are calling for a nationalist government not beholden to any external power and have singled out Iran because it controls a majority of political parties and militias in Iraq. Tehran had sent Gen. Qassim Suleimani, the commander of the Iranian Revolutionary Guards' Quds Force, to Baghdad to oversee the militant response to the uprising. General Suleimani has ensured that Prime Minister Abdul Mahdi does not resign, despite the latter indicating that he is willing to do so.
Images emerging from cities like Nasiriya, Basra and Baghdad generate a mixture of hope and fear. The courage of the protesters has given Iraq hope that change is possible, and the brutality of the response by the government forces and Iran-backed militias has shown that Tehran and its clients will do everything in their power to protect their interests and investments. Iran today relies on Iraq to circumvent international sanctions, sell its gas and agricultural products, and project its power in the Arab world.
Young Iraqis continue protesting night after night, defying the government's repeated attempts to impose a curfew. The political class, which remains barricaded in the Green Zone and disconnected from the street, does neither know nor understand the activists leading the protests.
The callousness of the Iraqi government was epitomized by its recent statement that it did not know the identity of government snipers who shot and killed numerous protesters in Baghdad.
As the protest enters the second month, the Sunni-majority provinces and cities have been sitting out the protests for fear of being branded Baathists or Islamic State supporters. They also worry about a return to lawlessness that they endured when the Iraqi state collapsed between 2014 and 2017. Some protesters from these provinces have joined the protests in Baghdad, carrying banners expressing solidarity from their cities.
Although economic depravation and political collapse drove Iraqis to the streets, a sense of pride has risen out of the protests and cohered around the ultimate demand to see Iraq as a sovereign country.
At this point, the government's promises to improve job opportunities or to start a drawn-out process to reform the electoral law will not suffice. Millions are calling for overhauling the political system >>>
Mina al-Oraibi is the editor in chief of The National, a newspaper based in Abu Dhabi, United Arab Emirates.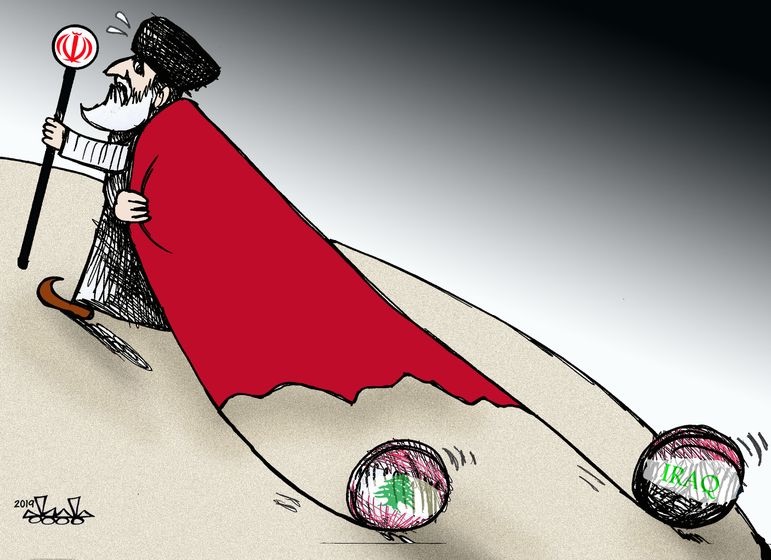 Cartoon by
Hassan Bleibel
Iraq and Lebanon's protesters may achieve what Trump's 'maximum pressure' could not
By Ishaan Tharoor
The Washington Post: President Trump has long decried the effects of Iran's influence operations beyond its borders. On the campaign trail, he embraced the rhetoric of Washington's hawks, casting his domestic rivals as timorous enablers of an Iranian project for Middle East hegemony. His decision to end American commitments to the nuclear deal forged between Tehran and world powers in 2015 was in part premised on the belief that the accord did not do enough to curb Iran's support for proxy militias in countries such as Syria, Iraq, Yemen and Lebanon.
Since then, the Trump administration's "maximum pressure" campaign of sweeping sanctions has strangled Iran's oil exports and enfeebled its economy. But it's hardly put a dent in Iran's "malign" regional behavior. On the contrary, as a summer of explosive stealth attacks showed, the current confrontation has only emboldened elements within the Iranian regime to up the ante and defy Washington's challenge. Even as ordinary Iranians endure the hardships that followed Trump's measures, the sanctions have not compelled Iran's Revolutionary Guard Corps and Maj. Gen. Qasem Soleimani, leader of the powerful paramilitary organization's overseas arm, to scale back their activities.
But Soleimani's agenda is nonetheless facing a serious threat — not via American confrontation, but popular unrest. Weeks of mass protests in Lebanon and Iraq have pitted an infuriated populace against an establishment they see as feckless and corrupt. The uprisings have also seen demonstrators openly reject the Iranian hand in their countries' politics, which in both cases have democracies built around power-sharing agreements within diverse, multi-confessional societies.
And they've already scored significant victories: On Tuesday, Lebanese Prime Minister Saad Hariri announced his resignation, though he will stay on in a caretaker role as the government struggles to find a way out of a crisis it first sparked when it tried to levy a tax on WhatsApp phone calls. On Thursday, Iraqi President Barham Salih said that the government would overhaul the country's electoral commission and draft a new electoral law — one of the demands of the protests — ahead of possible new elections. He indicated that Prime Minister Adel Abdul Mahdi, a target of popular ire, would stay on in his post only until a successor was identified.
But these steps did not mollify the rage on the streets. Mass protests took place in both countries over the weekend. Tens of thousands of Iraqis rallied in Baghdad's central Tahrir Square on Saturday and in cities elsewhere, clamoring for more sweeping change. Clashes with security forces in the capital led to at least one death and dozens of injuries, adding to a death toll of around 250 people since the protests first flared last month. The violence is largely blamed on pro-Iranian militias that have operated alongside the Iraqi military in recent years and appeared to have gunned down demonstrators with impunity.
Hariri's resignation has not dimmed the protests in Lebanon. In the northern city of Tripoli, a major hotbed of dissent, a huge rally took place yet again on Saturday, with protesters echoing the widespread demand that the entire political class go. "Everyone means everyone," read one poster, according to Agence France-Presse. On Sunday, large crowds blocked roads once more in the capital, Beirut, dwarfing a rally earlier in the day that attempted to show support for some of the beleaguered government's leaders.
Hezbollah, the powerful Lebanese Shiite faction backed by Iran and allied with Lebanese President Michel Aoun, a Christian, has provoked the protesters' ire. An organized mob of apparent Hezbollah supporters violently attempted to dismantle a protest site in Beirut midweek, but their show of force only galvanized outrage at the organization.
"If the Lebanese and Iraqi protesters succeed in toppling their governments and weakening established political parties with deep ties to Iran's leaders," noted the New York Times, "Iran stands to lose decades of financial, political and military investments that have turned it into one of the Middle East's biggest powers."
The protests have underscored a new reality for Iran and its proxies. No matter the self-styled revolutionary politics of the Iranian regime, it's turning into a counterrevolutionary power in the region. "Iran finds itself in a position where the narrative of resistance that had been central to its activity for so long is now directed against the Islamic Republic," Simon Mabon, an expert on the Saudi-Iranian rivalry at Lancaster University in Britain, told Today's WorldView.
In remarks made on Friday, Hezbollah leader Hasan Nasrallah warned of the protests creating "a vacuum [that] will lead to chaos, to collapse." Last week, Iran's supreme leader, Ayatollah Ali Khamenei, tweeted warnings in English to authorities in Baghdad and Beirut to bring the "turmoil" under check and blamed the unrest on foreign meddling.
"The U.S. and Western intelligence agencies, with the help of money from regional countries, are instigating unrest in the region," Khamenei said in a speech. "I advise Lebanon and Iraq to make it a priority to stabilize these security threats."
According to a report in the Associated Press, Soleimani chaired a meeting with senior Iraqi politicians in Baghdad a month ago, urging them to follow his lead to get things under control. But the brutal violence unleashed by government-allied militias linked to Iran has spurred nationalist outrage at Tehran's proxies in Iraq, including among Iraqi Shiites in the country's south, where the protests have been particularly restive.
"All the parties and factions are corrupt, and this is connected to Iran, because it's using them to try and export its system of clerical rule to Iraq," Ali al-Araqi, a 35-year-old protester from the southern town of Nasiriyah, told the AP. "The people are against this, and that is why you are seeing an uprising against Iran." >>>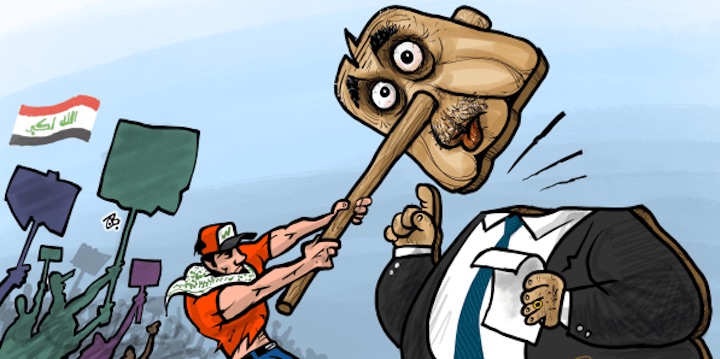 Cartoon by
Emad Hajjaj
Iraq protests and western indifference
Editorial
The Observer: Iran's leaders say they have no wish to recreate the Persian empire in the present-day Middle East. Unlike the US, they say, Iran is not an imperialist power. That is not how it looks to many people in Lebanon, where Iran's close financial and military links to the country's leading Shia political organisation, Hezbollah, became the focus of angry anti-government street protests last week.
The benign view of Iran as friendly neighbourhood helper is also hard to square with its support for the Houthi rebellion in Yemen, where the death toll in four years of war has reached 100,000. This conflict resembles a classic proxy struggle between two external powers – Shia Iran and Sunni Saudi Arabia – that are each vying for regional dominance.
The pervasive influence of the Islamic Revolutionary Guards Corps within Iran's hardline clerical establishment, and its close ties to the supreme leader, Ayatollah Ali Khamenei, are key factors shaping what moderates worry is a risky policy of geopolitical overreach. Most prominent among the hawks is Maj Gen Qassem Soleimani, head of the IRGC's elite Quds force.
So it was no surprise, perhaps, that Soleimani turned up in Iraq last week as mass demonstrations in Baghdad and other, mainly Shia, cities threatened to topple the government. Adel Abdul Mahdi, Iraq's prime minister, owes his job to Iran, which became the main powerbroker after most US forces pulled out in 2011. Iraq is another non-province of Iran's non-empire and Soleimani was not about to let it slip away.
Maj Gen Qassem Soleimani, leader of Iran's elite al-Quds force.
The official explanation for his presence was innocuous. "[Iraq's] security is important for us and we have helped them in the past. The head of our Quds force travels to Iraq and other regional countries regularly, particularly when our allies ask for our help," an anonymous Iranian official said. In fact, Soleimani was knocking heads together following threats by key Shia leaders to abandon Abdul Mahdi.
Soleimani's success in patching things up – the prospect of the prime minister's enforced resignation appears to have receded – does not augur well for Iraq. On Friday, two days after his intervention, Baghdad had the biggest anti-government demonstration to date. The protesters want a root-and-branch clear-out of Iraq's entire ruling elite, regardless of sectarian and ethnic allegiances – and an end to Iran's string-pulling.
This unprecedented post-Saddam challenge to the established order is not just a problem for Tehran. It is an existential problem for Iraq's fragile three-way democratic power-sharing system cobbled together after the 2003 invasion. Iraq's leaders have too often failed to provide basic necessities such as clean water and electricity. Iraq's young people lack opportunities and jobs. Politicians, whether they be Sunni or Shia Arabs or Kurds, are widely dismissed as corrupt and incompetent.
In a country that is Opec's second-largest oil producer and home to 12% of the world's oil reserves, such persistent failures seem particularly hard to excuse. On the other hand, Iraq is still recovering from the traumatic US occupation and, more recently, from the fight to the death against Islamic State.
Many in the US (and Britain) regard the Iraq chapter as closed. This is not the case. Western countries that, not unlike modern Iran, acted imperiously and illegally to impose regime change on Iraq and subsequently control and direct Iraq's affairs have a continuing responsibility to help secure its democratic integrity, freedom from jihadist terror, and economic and social viability.
This responsibility extends foremost to the Iraqi people, who are loudly demanding a new beginning. In recent days, about 250 have been killed, and thousands more wounded, for having the temerity to insist on the free, just democracy that they were promised in 2003. If this carnage were occurring in Hong Kong or Barcelona, there would be a deafening uproar. Why, when we claimed to care so much, do we not care about Iraq?