Public Page
Follow
Jahanshah Javid
Age: 58 |
Birth City: آبادان |
Joined on October 02, 2012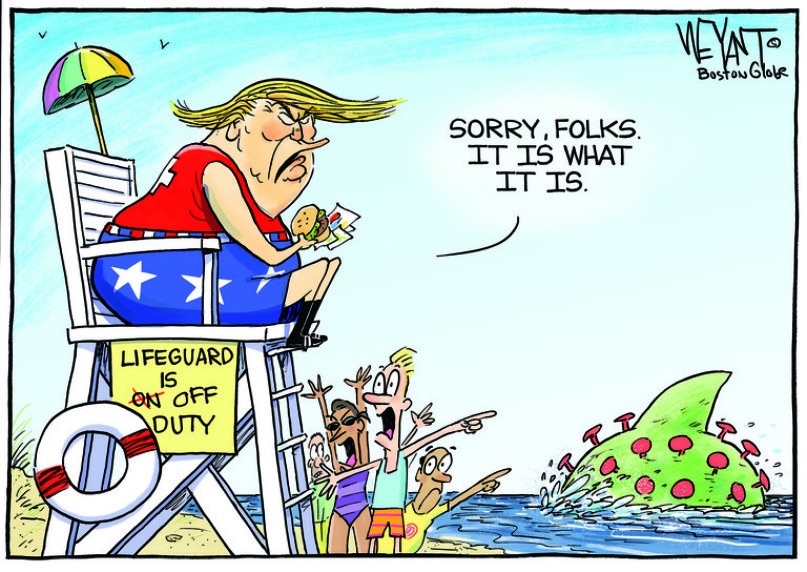 Cartoon by
Christopher Weyant
Coming Next: The Greater Recession
By Paul Krugman
The New York Times: One pretty good forecasting rule for the coronavirus era has been to take whatever Trump administration officials are saying and assume that the opposite will happen. When President Trump declared in February that the number of cases would soon go close to zero, you knew that a huge pandemic was coming. When Vice President Mike Pence insisted in mid-June that "there isn't a coronavirus 'second wave,'" a giant surge in new cases and deaths was clearly imminent.
And when Larry Kudlow, the administration's chief economist, declared just last week that a "V-shaped recovery" was still on track, it was predictable that the economy would stall.
On Friday, we'll get an official employment report for July. But a variety of private indicators, like the monthly report from the data-processing firm ADP, already suggest that the rapid employment gains of May and June were a dead-cat bounce and that job growth has at best slowed to a crawl.
ADP's number was at least positive — some other indicators suggest that employment is actually falling. But even if the small reported job gains were right, at this rate we won't be back to precoronavirus employment until … 2027.
Also, both ADP and the forthcoming official report will be old news — basically snapshots of the economy in the second week of July. Since then much of the country has either paused or reversed economic reopening, and there are indications that many workers rehired during the abortive recovery of May and June have been laid off again.
But things could get much worse. In fact, they probably will get much worse unless Republicans get serious about another economic relief package, and do it very soon.
Give the gift they'll open every day.
Subscriptions to The Times. Starting at $15.
I'm not sure how many people realize just how much deeper the coronavirus recession of 2020 could have been. Obviously it was terrible: Employment plunged, and real G.D.P. fell by around 10 percent. Almost all of that, however, reflected the direct effects of the pandemic, which forced much of the economy into lockdown.
What didn't happen was a major second round of job losses driven by plunging consumer demand. Millions of workers lost their regular incomes; without federal aid, they would have been forced to slash spending, causing millions more to lose their jobs. Luckily Congress stepped up to the plate with special aid to the unemployed, which sustained consumer spending and kept the nonquarantined parts of the economy afloat.
Now that aid has expired. Democrats offered a plan months ago to maintain benefits, but Republicans can't even agree among themselves on a counteroffer. Even if an agreement is hammered out — and there's no sign that this is imminent — it will be weeks before the money is flowing again >>>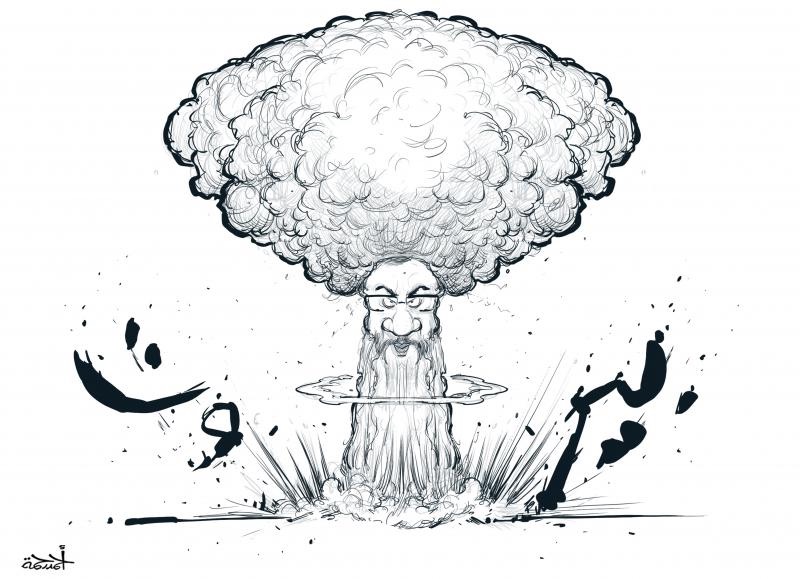 Cartoon by
Ahmad Rahma
As Beirut mourns, our failed leadership looks for someone to punish. I say they must all go.
By Rabih Alameddine, an author.
The Washington Post: I was talking to my mother when I heard the explosion. The shaking happened first, followed by the blast. We couldn't tell what it was, but it felt worse than any car bomb, any missile, anything that occurred during the 15-year civil war. Practically every window in the city was blown out, doors blown off, cars crushed. The Lebanese did not need to be told that there would be deaths and thousands of injuries.
It took seconds for rumors to begin circulating. Twitter was aflame. It was a fireworks depot, an Israeli missile, an explosion of a Hezbollah weapons depot, a nuclear bomb. The worst opinions would be spouted by so-called Middle East experts, of course. "We've known for years that Hezbollah stores advanced weaponry inside of the city on top of major population centers." "Blast in Beirut might also be result of what is described as a Hezbollah work accident. The French might say hoisted on their own petard."
I can't speak for all Lebanese, but I can probably say that a lot of us would like to hoist these armchair experts on something.
As of this writing, more than 100 people are dead and at least 4,000 injured. The images of destruction are horrifying.
To say that this could not have happened at a worse time for Lebanon would be an understatement. The economy had tanked, the Lebanese pound had lost more than 60 percent of its value in just the past month, and banks were allowing only minimal withdrawals. Most of the citizens are starving. Demonstrations have been rocking the streets since last October. The government and its cronies have sent the army, the police and various militias to beat up demonstrators. Lebanon was teetering, and then we got the novel coronavirus.
And now this.
Prime Minister Hassan Diab linked the explosions to 2,700 tons of ammonium nitrate that had been stored in a warehouse in Beirut's port area since 2014. He promised to bring justice. He said he would make sure that whoever was responsible for the chemicals being left at the port and whoever caused the accident would be punished — the harshest sentences to be meted out.
But I kept thinking: Why? As a society, we keep looking to punish people, calling it justice. I'm not suggesting that we shouldn't punish those responsible for the devastation. They can go to hell, and if that's not available, then prison. But that result isn't justice. It's barely a palliative.
When the first rumors about the blast burst out, I didn't dismiss any of them. An Israeli missile? Sure. A weapons depot accident? I could see that. A Hezbollah car bomb? It could happen. It had happened. A nuclear bomb? Of course. We're talking Beirut here, where anything can happen and everything has.
As far as we know, it turned out to be something much more sinister. An accident because no one in government, no one with any responsibility for the care and well-being of Lebanon and its people, cares. They never have. I could list all the disasters that have befallen the country in recent years, but that would take an encyclopedic tome.
People in government have brazenly stolen millions. The latest banking collapse had many reasons, but primarily it happened because we had a unified government that decided it was time to empty out the national bank and central reserves. Most parts of Lebanon have been getting no more than two or three hours of electricity a day because certain members of parliament have companies making millions selling and maintaining generators. Because of the lack of maintenance of the sewage system, the Lebanese are swimming in crap, literally. I could go on.
The lack of concern of Lebanese governments throughout the years, the corruption and narcissistic incompetence are almost Trumpian.
I used to think that the reason was leftover from colonial times. Going back in time, the Arab invaders, the Ottomans, the French, they never cared about the country or its people. Like merger and acquisition firms, they wanted to squeeze whatever profit they could get. The locals who replaced them simply followed the same model.
But I don't think so. Most governments are corrupt, and they don't use colonialism as an excuse.
And then I realized, I don't care to know why. I really don't.
It's likely this disaster didn't happen because just one person was neglectful or was willfully criminal. Did the director of customs get bribed, the port manager? I don't care right now. It's not individuals or a certain group. It's not bad apples, it's the whole orchard, all the orchards. It's a systemic failure of governance. For years, every faction in the country blamed the other for any disaster. We had a civil war that ended only when all the sides figured they could steal a lot more money if they cooperated. There were always scapegoats, and I'm sure that some will be offered this time as well. But enough, enough!
This government must go. All of them. The government, the president, the prime minister, Hezbollah, the Hariris, the Lebanese forces, the Aouns, the Jumblatts, the Berris, the Gemayels, every one of them. Enough. Get out.
We need to plant anew.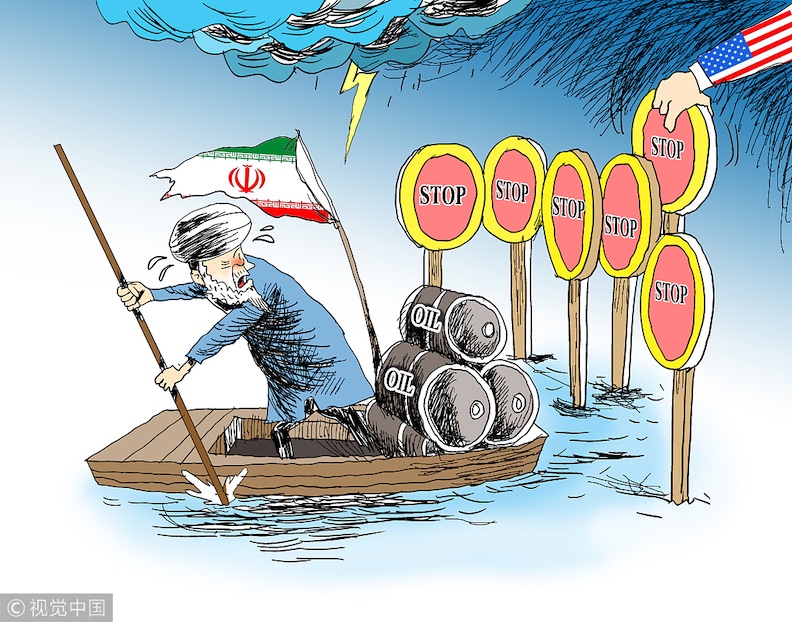 Cartoon from
China Daily
Pompeo Says Iran Sanctions To Be Applied To China If $400 Billion Trade Deal Signed
Radio Farda: Referring to a $400 billion 25-year trade deal between Iran and China U.S. Secretary of State Mike Pompeo on August 2 said the United States will apply all Iran sanctions also to the "Chinese Communist Party and their businesses and state-owned enterprises".
The comments on the Iran-China deal were made during an interview with the Sunday Morning Futures program of Fox News.
In response to a question on the agreement which the presenter said "is set to be in the final stages of approving", Pompeo said it "shouldn't be surprising that regimes that don't respect freedom at home and foment national security problems abroad would want to join hands" and added that the United States will be sure to enforce all the provisions it has and apply all Iran sanctions, "to the Chinese Communist Party and their businesses and state-owned enterprises as well".
Pompeo pointed out that the U.S. filed new sanctions on Iran on Friday which included expanding sanctions to Iran's metals industry but will also try to stop the lifting of the JCPOA weapons embargo that will expire in October. According to Pompeo, the United States will present a Security Council resolution aimed at keeping the embargo in place.
The lifting of the embargo will allow the Chinese and the Russians to sell weapons systems to Iran and then allow Iran to sell those weapons systems and other arms around the world as well, Pompeo said.
Pompeo also said countries in the Middle East should "see this for what it is as well" and added, "China's entry into Iran will destabilize the Middle East. It will put Israel at risk. It will put the Kingdom of Saudi Arabia and the Emirates at risk as well. Iran remains the world's largest state sponsor of terror, and to have access to weapons systems and commerce and money flowing from the Chinese Communist Party only compounds that risk for that region." >>>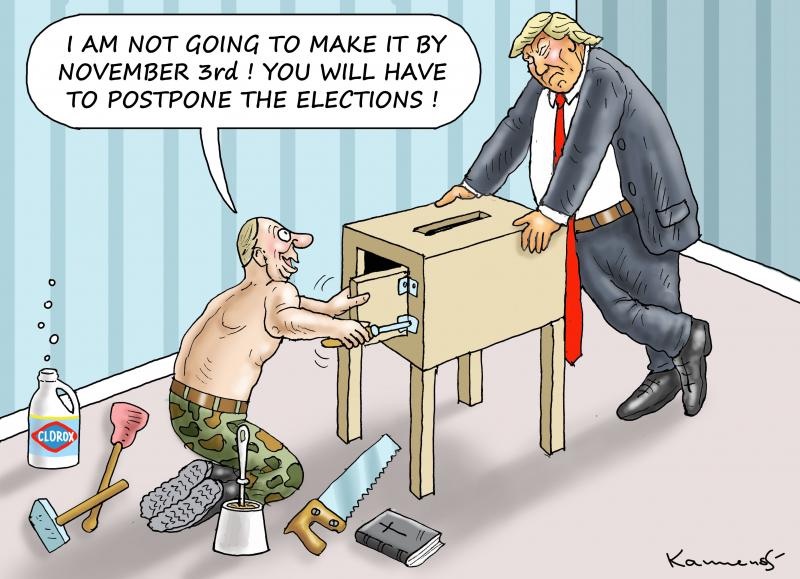 Cartoon by
Marian Kamensky
Trump's delay-the-election tweet was just a distraction
By Jonah Goldberg
Boston Herald: On Thursday morning, the Bureau of Economic Analysis announced that the U.S. GDP had the biggest drop in a single quarter in U.S. history. From April through June, the economy contracted by 9.5%, with the GDP falling at an annualized rate of 32.9%.
President Trump, who tweets about many topics, said nothing about it. But some 16 minutes after the news broke, he did tweet the following:
"With Universal Mail-In Voting (not Absentee Voting, which is good), 2020 will be the most INACCURATE & FRAUDULENT Election in history. It will be a great embarrassment to the USA. Delay the Election until people can properly, securely and safely vote???"
While I think this tweet was a profound error for reasons I'll get to in a moment, my strong suspicion is that it accomplished precisely what Trump wanted. By floating the idea that we should postpone the election, suddenly no one was talking about the disastrous economic data. Instead, just about everyone took the bait and started talking about this grotesquely irresponsible trial balloon for a terrible idea. Including yours truly.
The president places outsized importance on numbers — stock market numbers, COVID-19 numbers, whatever — and racking up the single worst quarterly economic number ever recorded probably bothered him more than it should. After all, 32.9% was actually better than expected. Moreover, Trump wasn't responsible for the pandemic that caused the economy to grind to a halt in the spring. And even though his handling of the crisis has been spotty at best, a similar number would probably be inevitable under any president.
Trump's tweet was a terrible error politically for more reasons that I can list here. But here are four:
First, it makes Trump look desperate. If he were up 10 points in the polls, he wouldn't be asking for an extension.
Second, Joe Biden is beating Trump badly by promising a return to normalcy. Floating the idea that the election should be postponed — something Biden predicted Trump might try, to the outrage of Trump defenders — only fuels a sense of chaos and presidential unsteadiness.
Third, it forced other Republicans to distance themselves from the president. "Never in the history of the country, through wars, depressions and the Civil War, have we ever not had a federally scheduled election on time. We'll find a way to do that again this Nov. 3," Senate Majority Leader Mitch McConnell said in an interview with a Kentucky TV station.
And finally, it's a futile idea that will go nowhere, even as it galvanizes Trump's opponents and divides his supporters, because the president of the United States cannot unilaterally delay an election. All elections are run by the states, and the timetable for all federal elections are set by Congress.
It's this last point that we should all be grateful for, and progressives in particular should take note >>>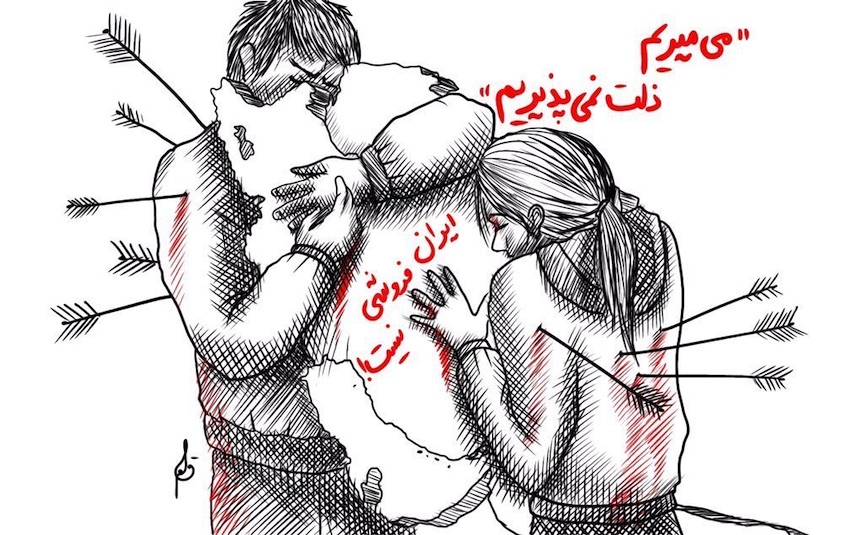 Why The Iran-China Oil Alliance Is So Important
By Dr Fariborz Saremi
Oil.com: The steady rise in U.S. strategic competition with the People's Republic of China (PRC) over trade and the South China Sea already has so many dimensions that it is sometimes easy to ignore shifts in the PRC's behavior in other areas. On July 6, 2020, Iranian Foreign Minister Javad Zarif announced that Iran was negotiating an agreement with the PRC - with which it long has had trade and strategic links - which would now make the two countries the equivalent of strategic partners.
This expanded U.S.-PRC competition to new parts of the world. Perhaps more importantly, the move is a substantive and significant response to India's success in militarily outmaneuvering the PRC in Kashmir during June 2020.
The PRC-Iran accord means the end of Indian use of the Iranian port of Chah Bahar and the construction of a rail link from that port city northward to link with a new rail spur into Afghanistan. India's moves into Kashmir in 2019-2020 are widely perceived in Beijing to presage a new move by India to cut off the PRC-Pakistan landbridge through Pakistani controlled Azad (Free) Kashmir, giving India its own landbridge to Central Asia.
Thus, after the confrontation between the Indian Army and People's Liberation Army (PLA) troops in the Ladakh region of Kashmir on June 15-16, 2020, Beijing determined it would respond by cutting Indian access to Central Asia through Iran. The first signs came as the Iran-PRC deal was announced and the Iranian government canceled the Chah Bahar to Zahedan rail link which was to be built by India, citing Indian delays on the 628 km project. The Iranian government said that it would complete the line on its own, with a $400 million investment from the Iranian National Development Fund to the Iranian Railways.
Indian Prime Minister Narendra Modi had gone to Tehran in May 2016 to sign the Chah Bahar deal, but work was indeed delayed as India fretted that the project might invoke U.S. sanctions against India.
The PRC-Iran agreement could involve serious military ties and lead to major PRC defense sales to Iran, involve some $400 billion in PRC economic investment over 25 years, and lead to a major PRC role in modernizing Iranian railroads, ports, 5G Networks, and telecommunications generally. In return, the PRC would get discounted supplies of Iranian oil products and gas for the next 25 years.
The PRC would be able to make Iran part of its Belt and Road Initiative (BRI), and be able to establish free trade zones in Iran in Maku in the northwest, Abadan in Khuzestan Province near Iraq, and Qeshm island just inside the Persian Gulf near the Strait of Hormuz.
The agreement would give the PRC access to Jask, a major Iranian port outside the Strait of Hormuz. The PRC began developing its strategic position in the Persian Gulf region during the Iran-Iraq war as far back as 1980-1988. And the PRC presence in the Persian Gulf has only increased since that time.
PRC activity over the last decade shows a clear intent to secure its energy imports from the Persian Gulf, compete with the U.S. and India, and look toward a day when it would be as real a power in the Persian Gulf and the Indian Ocean as it was striving to be in Asia and Pacific.
The PRC had also made Pakistan a key partner in its Belt and Road Initiative, and the PRC now plays a key part in developing and managing the Pakistani port of Gwadar, on the Arabian Sea. The PRC also invested some $10.7 billion into transforming an Omani fishing village into the special Economic Zone Authority of Duqm. But, significantly, Oman has reserved significant parts of the maritime facilities at Duqm for British and U.S. forces.
The PRC has taken these steps for both economic and strategic reasons. In 2019, Beijing attempted, without success, to bring Saudi Arabia and the United Arab Emirates into its orbit. It found it could not, however, have a strategic relationship with Iran and the Arabian Peninsula states simultaneously. It stayed with the more significant choice, Iran.
It is vital to the PRC to secure its access to the Persian Gulf oil and gas, and limit U.S. capability to influence this flow to the PRC during a crisis or war. The PRC imports more than 70 percent of its petroleum, and gets more than 40 percent of its supplies from the Persian Gulf.
Iranian-PRC trade and strategic linkages in many ways circumvent U.S. attempts to sanction the leadership of both states. At a time when both sanctioned states have come under great pressure, the new alliance, then, offers Beijing and Tehran some real respite and strategic resilience. Adding Russia into the mix only widens the trading zone of both states.
The real challenges, however, comes from whether the PRC economy can be sustained for the duration of the new accord, and whether an Indian military thrust to cut off the Pakistan corridor to the PRC will cause grave difficulties for Beijing.
But, certainly, the new deal with Iran is Beijing's signal that it is planning for the day when the Pakistan corridor to the Indian Ocean may be lost to it.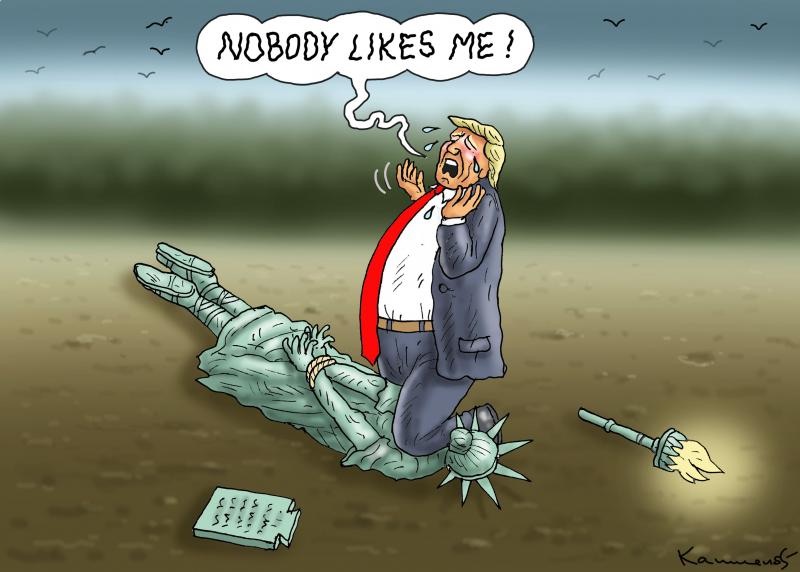 Cartoon by
Marian Kamensky
Trump's Approval Rating Sinks to 17-Month Low as Election Looms Closer
Newsweek: President Donald Trump's average approval rating has sunk to a 17-month low with less than four months to go until the November elections, new polling data shows.
The approval rating tracker run by FiveThirtyEight found that the president had the backing of 40.2 percent of Americans on average, according to weighted calculations.
Trump's average job approval rating was last at that level on February 10, 2019—a little more than a month before the conclusion of the Special Counsel investigation into Russian interference in the 2016 elections.
The commander-in-chief's present disapproval rating has also hovered at a high not seen since early 2019 over the past few weeks.
According to the FiveThirtyEight tracker, which weights its calculations on the quality of individual polls, Trump's average disapproval rating stood at 55.7 percent, giving him a net disapproval rating of 15.5 percentage points.
Several individual approval rating polls have been no more flattering to the president as voters have registered their disapproval of his handling of the coronavirus pandemic.
One survey released by Ipsos and Reuters this week found that Trump's approval rating stood at just 38 percent among U.S. adults surveyed between July 27 and 28. By comparison, 57 percent of voters said they disapproved of his performance in office, landing the president with a net disapproval rating of 19 percentage points.
A further 4.7 percent said they were unsure how they felt about Trump's performance in office thus far.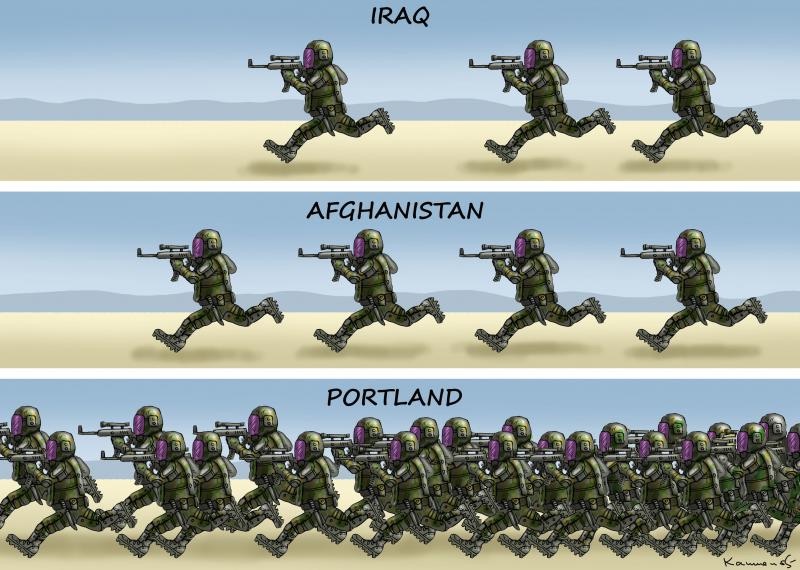 Cartoon by
Marian Kamensky
Protests resurge across U.S. as clashes continue in Portland
Protests resurged across the United States over the weekend, with clashes between activists and authorities erupting in major cities amid continuing unrest in Portland, Ore.
Here are some significant developments:
* Police and protesters clashed in major cities, including Seattle and Los Angeles, on Saturday night.
* A Black Lives Matter demonstrator in Austin was shot and killed.
* A group of African American mayors has laid out a plan for overhauling police practices that avoids defunding departments.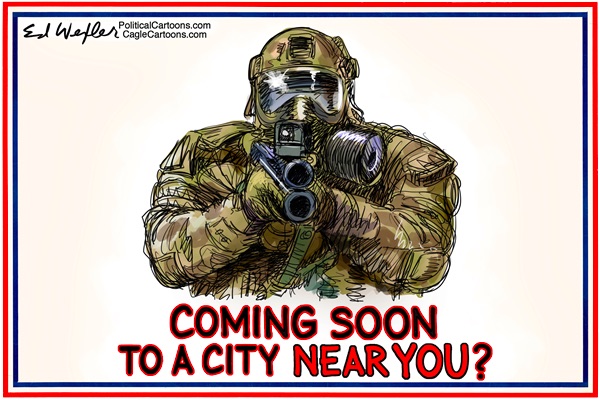 Cartoon by
Ed Wexler
Trump threatens to deploy federal agents to Chicago and other U.S. cities led by Democrats
The Washington Post: Homeland Security officials said Monday they are making preparations to deploy federal agents to Chicago, while President Trump threatened to send U.S. law enforcement personnel to other Democratic-led cities experiencing spates of crime.
Trump made the pronouncement as he defended his administration's use of force in Portland, Ore., where agents have clashed nightly with protesters and made arrests from unmarked cars. Calling the unrest there "worse than Afghanistan," Trump's rhetoric escalated tensions with Democratic mayors and governors who have criticized the presence of federal agents on U.S. streets, telling reporters at the White House that he would send forces into jurisdictions with or without the cooperation of their elected leaders.
"We're looking at Chicago, too. We're looking at New York," he said. "All run by very liberal Democrats. All run, really, by the radical left."
"This is worse than anything anyone's ever seen," Trump continued. "And you know what? If Biden got in, that would be true for the country. The whole country would go to hell."
With his poll numbers sinking amid widespread frustration at his response to the coronavirus pandemic, Trump has cast himself as a law-and-order strongman who will pacify U.S. communities roiled in recent months by spreading disease, the economic crisis and large street protests for racial justice. Trump has wielded images of violent demonstrations, though the vast majority of racial justice protests have been peaceful.
Three Department of Homeland Security officials said Monday that the agency has been making preparations to deploy agents from U.S. Immigration and Customs Enforcement (ICE) to Chicago, but the officials said operational details are not yet finalized >>>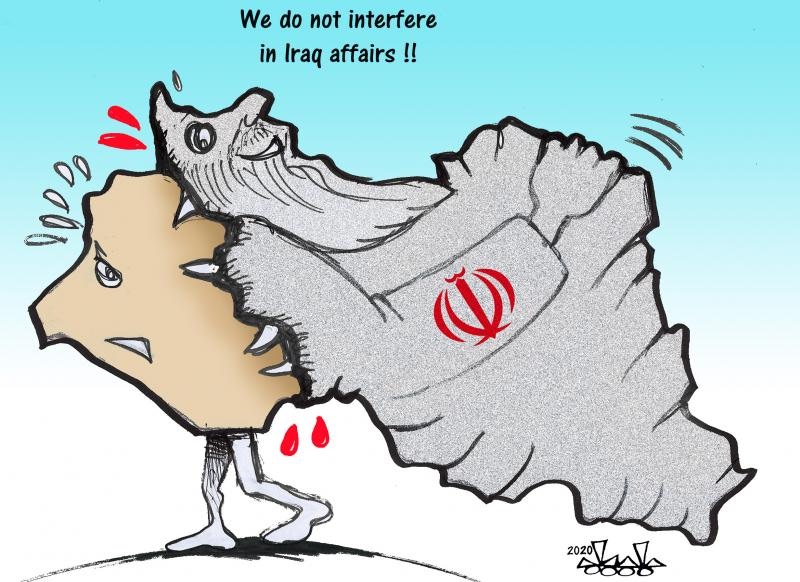 Cartoon by
Hassan Bleibel
What's next after the visit of Iran's Foreign Minister to Iraq?
Middle East Monitor: Iran's Foreign Minister, Mohammad Javad Zarif, is a diplomat who is savvy and accustomed to donning kid gloves to tempt those he deals with. This has been to his advantage, allowing him to achieve or obtain what he wants on most occasions, especially in negotiations and dialogue with friends and opponents alike. For this he is favoured by Iranian Supreme Leader Ali Khamenei, who has backed him in response to attacks from his rivals within the regime who sought to remove him from his position. However, Khamenei's support has made Zarif proud, according to some who are close to him and describe him as the "Tariq Aziz of Iran", a reference to his similarities with the late Iraqi Foreign Minister.
However, Zarif's latest visit to Baghdad was not a success. He returned empty handed, as Iraqi Prime Minister Mustafa Al-Kadhimi did not like what he had to offer and viewed the situation very differently. The point in question was about asking Baghdad to work towards removing the Americans from the country, to which Al-Kadhimi replied that Iraq has its own view on this issue, which he will present in his upcoming talks with Washington, and that he refuses to accept any interference in Iraq's internal affairs. In other words, Al-Kadhimi wanted Tehran to know that its control and influence over Iraqi decision-making has diminished, and that Baghdad wants a "US presence" in a form agreed upon with Washington. Iraq regards such a presence as an embodiment of the balance to which it aspires in its relationships with the US and Iran.
Moreover, Zarif was not happy with Al-Kadhimi's statement during their meeting about seeking to create multiple economic partnerships and an openness to all parties in order to diversify investment opportunities in his country. This was a diplomatic response to Tehran's demand that it has the largest share of the economic relationship with Baghdad, at the expense of other countries. Al-Kadhimi's plan for Iraq's openness to other countries, especially in the Arab world, may deprive Tehran of many gains, including those related to the oil and electricity sectors. By calculating profits and losses, the new economic policy that Al-Kadhimi wants to pursue will mean a loss for Tehran, which is interested in obtaining the dollar, through the Iraqi portal, on which Tehran has relied for the past few years in order to free itself to some degree from the restrictions imposed by US sanctions. It will not be able to breathe relatively easily without Iraqi support. If Iraq succeeds in ridding itself of Iranian dominance over its decisions — and this may not be achieved with the stroke of a pen — the Iranian project in the region will be killed. Hence, Iran will press with all means necessary to prevent it from happening >>>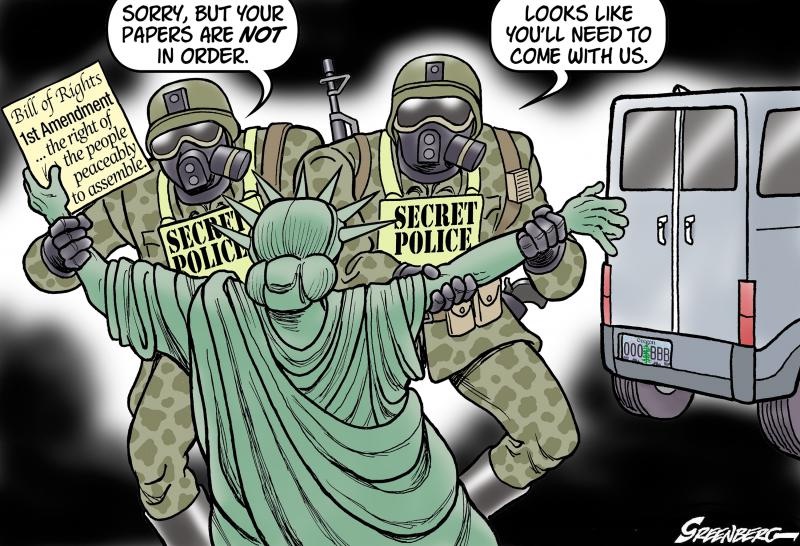 Steve Greenberg
: There is an alarming situation going on in Portland, Oregon, with unidentified police (federal agents sent by Donald Trump and his Attorney General henchman William Barr) snatching and detaining generally peaceful protesters, shoving them into unmarked rental vehicles. This is part of Trump's show of "law and order" that he hopes will energize his political base for his attempt at reelection. This reeks of secret police acting on orders of authoritarian, dictatorial figures, which Trump hopes to become.