Public Page
Follow
Jahanshah Javid
Age: 58 |
Birth City: آبادان |
Joined on October 02, 2012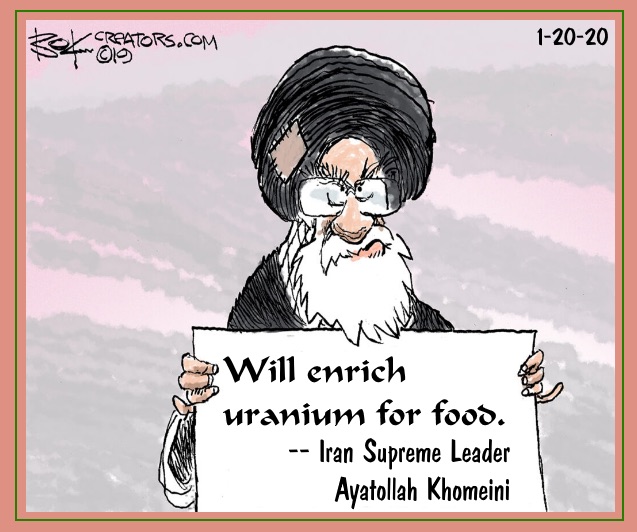 Cartoon by
Chip Bok
The Iran Nuclear Deal Is Dying But It's Not Dead Yet
By Tom O'Connor
Newsweek: The Iran nuclear deal has suffered serious successive blows since President Donald Trump's decision to abandon the agreement two and a half years ago, but with Europe's recent move to challenge Iran's compliance, the historic accord faces its greatest crisis yet.
France, Germany and the United Kingdom last week triggered the dispute resolution mechanism to the 2015 Joint Comprehensive Plan of Action, or JCPOA, in an attempt to reverse Iran's gradual pullback from its nuclear-related commitments. If the issue is not resolved, the agreement could unravel altogether.
Iran has rolled back its nuclear limitations because it argues its JCPOA benefits have diminished since the 2018 U.S. exit from the agreement and the implementation of strict sanctions that pressure countries to not trade with Tehran.
The dispute resolution mechanism is a complex, multi-step process within an already complicated arrangement between six countries—China, France, Germany, Iran, Russia and the U.K.—that remain a party to the JCPOA. Although its triggering raises new doubts about a struggling agreement's viability, all parties argue they want the deal to survive.
How and in what capacity, however, remains a central point of contention.
"We triggered the DRM because Iran isn't complying with their end of the deal, but we fundamentally believe in the provisions of this deal," a senior U.K. official told Newsweek. "It's consistent with our support for the deal to try and resolve this through the procedures it set out, so our objective by doing it is to bring Iran back into compliance and to make sure that breakout time doesn't start to shrink"—referring to the time it would hypothetically take Iran to build a nuclear weapon.
Iran has denied seeking nuclear weapons. Tehran also contends that its recent moves did not violate the JCPOA, but are a systematic response enshrined within the deal to answer Europe's own shortcomings.
"The invoking of DRM is not legitimate, it lacks any legal basis because you cannot trigger DRM for remedial measures, we are taking these steps in the face of others not doing their commitments," a senior Iranian official told Newsweek. "We are doing exactly as the JCPOA told us we can do."
Trump's May 8, 2018 decision to leave the nuclear deal was opposed by the deal's signatories. Two days later, Iran initiated a dispute resolution mechanism of its own, calling for a joint commission session among the remaining parties, then followed by a ministerial meeting at which all parties committed to "providing practical solutions in order to maintain the normalization of trade and economic relations with Iran."
Iran's trade with Europe continued to plummet, however, under the pressure of U.S. sanctions. Iran then announced last year—on the anniversary of the U.S. withdrawal—that it would begin loosening nuclear restrictions as per Paragraph 26 allowing Tehran to "cease performing its commitments under this JCPOA in whole or in part" should any sanctions be reintroduced.
"We saw no movement from Europe in the meantime, and came to the conclusion that they are either unable or unwilling to take any meaningful measure against the U.S. unilateral sanctions," the senior Iranian official told Newsweek. "We thought at that point that the timing is right to take the remedial measures, and those measures are not against JCPOA, they're not a breach of JCPOA, they are fully consistent with the JCPOA.
"That was our right to do it, no one can complain about it," the official said.
Europe did issue a complaint at the time. China and Russia expressed disappointment but mostly blamed the U.S. for having reneged on the deal and for stirring Middle East tensions that would only escalate drastically in the months to follow.
As the situation in the Persian Gulf grew increasingly uncertain, the U.K. joined a U.S.-led naval coalition in the region, further angering Iran as it took additional steps away from the nuclear deal.
Tehran earlier this month made its fifth and what the senior Iranian official described to Newsweek as its "final" step after the U.S. killed Iran's Revolutionary Guard Quds Force commander Major General Qassem Soleimani near Baghdad International Airport. The EU held an extraordinary session in Brussels a week later and, after four days, France, Germany and the U.K. triggered the dispute resolution mechanism.
The senior U.K. official told Newsweek it was unlikely Iran "could be terribly surprised."
"We think it's the inevitable next step following their announcement and in fact these conversations about whether we need to trigger the DRM have been going on for some time," the official added. "This is actually the best way for them to come back to the table with the remaining parties to the deal and to find a way forward. We don't think it's in their interest for the JCPOA to collapse."
The senior Iranian official confirmed the move came as no surprise, but argued that it's Europe failing to live up to its end of the agreement, which the official said has again been balanced by Iran's scaled-back approach.
The senior Iranian official explained some "minor benefits" of Tehran staying in the deal. These include Iran cooperating with Europe on nuclear issues, working with the IAEA on technical matters and the lifting of U.N. Security Council resolutions targeting the Islamic Republic, which as of this October will be free of an arms embargo should the nuclear deal hold up.
There was also INSTEX. The U.S. sanctions-dodging, special-trade vehicle was announced by France, Germany and the U.K. in September 2018, but has not made any substantial impact on trade ties. Both the senior U.K. and senior Iranian official agreed that INSTEX in its current form could never substitute sanctions relief.
"In terms of our compliance we have done the things that have asked of us under the terms of the deal, but we recognize that much of the sanctions relief was going to come from the U.S.," the senior U.K. official told Newsweek. "Of course, the U.S. withdrawing from the deal has meant that that's not a reality."
"The priority now should be to de-escalate tensions between Iran and the U.S. and find a diplomatic solution that protects the gains of the JCPOA and also tackles Iran's destabilizing behavior in the region," the official said >>>
Tom O'Connor is a senior writer of foreign policy at Newsweek, where he specializes in the Middle East, North Korea and other areas of international affairs and conflict. He has previously written for International Business Times, the New York Post, the Daily Star (Lebanon) and Staten Island Advance.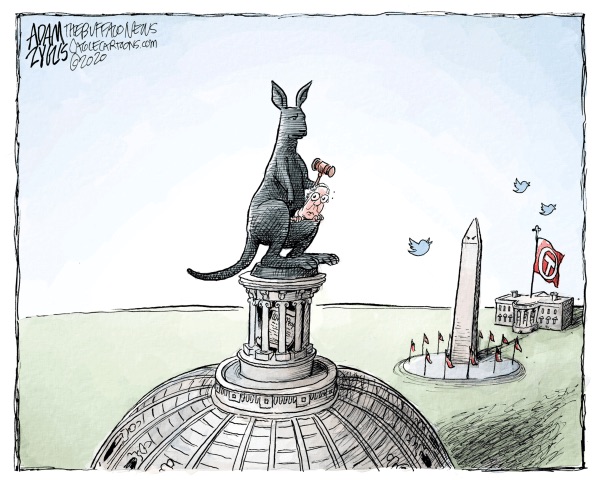 Cartoon by
Adam Zyglis
Of All Trump's Defenses, This Is the Lamest
By Frank Bruni
The New York Times: Once the Senate concludes its trial of President Trump, it should go into recess. Until next January. The House, too. Lawmakers shouldn't pass legislation, consider nominations or make any important decisions whatsoever: This is an election year, and the voters will soon weigh in on the direction of America. The nation's business should await that judgment, lest members of Congress contradict it.
A ludicrous proposal? Indeed. But it's in line with — and an extrapolation of — a favorite argument against Trump's conviction and removal from office. His Republican supporters say that lawmakers shouldn't speak for voters on such a crucial issue. To pre-empt the verdict at the ballot box, they say, is to subvert the people's will.
Nice try. Lawmakers are elected specifically to speak for voters on crucial issues. That's the system. That's their job. American government doesn't operate by daily, hourly or issue-by-issue polls (at least not overtly). Congress doesn't have exponentially more power one week after Election Day than it does one year later (though it may indeed have more political currency).
And lawmakers shouldn't defer to their constituents at every turn. Those constituents expect them, over the course of their legislative terms, to use their judgment as better-informed proxies for the people they represent. So does the Constitution, which created America as a representative democracy, not a direct one. Our lawmakers are supposed to lead as well as follow, to be responsive to public sentiment but not mesmerized or paralyzed by it. That's even truer when the stakes are huge than when they're small.
Republicans have decided to sing a different tune. If it sounds familiar, that's because they turned to the same music when the Supreme Court justice Antonin Scalia died, President Barack Obama nominated Merrick Garland to replace him and the Senate majority leader, Mitch McConnell, declared that a presidential election about eight months in the offing prevented the Senate from taking any action. It was a song not of principle but of political convenience. The same holds true now.
"Give the people back their power," the House minority leader, Kevin McCarthy, implored a few months ago, arguing against impeachment itself. Referring to the president's transgression and the November 2020 election, McConnell said, "The American people, if they think this is a very significant episode, can take it into account." Senator Lindsey Graham chimed in: "I really do believe that the best person — group of people — to pick a president are the voters, not a bunch of partisan politicians." Pat Cipollone, one of the president's lawyers, added: "No one ever thought that it would be a good idea for our country — for our children, for our grandchildren — to try to remove a president from a ballot, to deny the American people the right to vote."
No one? Really? How about the framers of the Constitution, who established the impeachment process to do essentially that and declined to add any asterisks about the next election's imminence? "If the framers thought impeachment in an election year was a bad idea, they could have set things up differently," noted Jill Lepore, a Harvard history professor and the author of the 2018 book "These Truths: A History of the United States." >>>
Frank Bruni has been with The Times since 1995 and held a variety of jobs — including White House reporter, Rome bureau chief and chief restaurant critic — before becoming a columnist in 2011. He is the author of three best-selling books.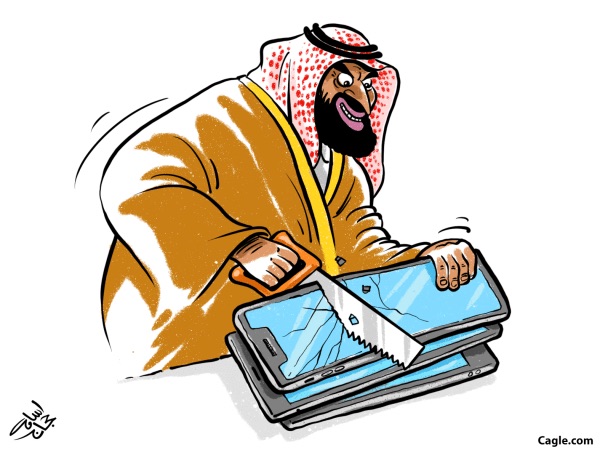 Cartoon by
Osama Hajjaj
Has the reckless Saudi crown prince struck again?
The Washington Post Editorial Board: IN MAY 2018, the WhatsApp account of Saudi Crown Prince Mohammed bin Salman, who had been the subject of criticism by us and by Post Global Opinions contributor Jamal Khashoggi, sent an unusual video text to Jeff Bezos, The Post's owner. Soon thereafter, Mr. Bezos's phone began transmitting large quantities of data, and it continued to do so for months afterward. Based on that and other evidence, a private cybersecurity firm concluded with "medium to high confidence" that the phone had been hacked with malware sent from the account used by the crown prince.
That report, in turn, prompted two United Nations human rights investigators to call on Wednesday for "immediate investigation by US and other relevant authorities" of the alleged hack, which they said "suggests the possible involvement of the Crown Prince in surveillance of Mr. Bezos, in an effort to influence, if not silence, The Washington Post's reporting on Saudi Arabia." We have an obvious interest in such a probe, as does our owner. But so, too, do all governments and international companies doing business with the kingdom and its ruler, who has demonstrated a reckless willingness to commit crimes and violate international boundaries.
The forensic analysis of Mr. Bezos's iPhone X, overseen by Anthony J. Ferrante of FTI Consulting, is not definitive in its conclusions about the hacking. Some cybersecurity experts have raised questions about the analysis, which was completed in November. Yet what the investigation did find is highly suggestive.
In addition to the export of data from Mr. Bezos's phone following the crown prince's video text, Mr. Bezos subsequently received two texts from Mohammed bin Salman's WhatsApp account indicating familiarity with then-undisclosed information, including divorce discussions Mr. Bezos was engaged in. Texts and photographs that could have come from his phone were published by the National Enquirer, whose owner had ties to the crown prince.
If Mohammed bin Salman did target Mr. Bezos for surveillance, it would not be an isolated case. As U.N. investigators Agnes Callamard and David Kaye said in their statement, "the allegations reinforce other reporting pointing to a pattern of targeted surveillance of perceived opponents and those of broader strategic importance to the Saudi authorities, including nationals and non-nationals." Any investigation, they said, ought to encompass "the continuous, multi-year, direct and personal involvement of the Crown Prince in efforts to target perceived opponents."
Mr. Bezos, of course, is not only the owner of The Post but also the founder of Amazon, one of the world's largest tech companies. Executives of other firms that, like Amazon, have thought about investing in Saudi Arabia ought to be wondering whether they will become targets of hacking attacks ordered by the crown prince. And what of Jared Kushner, son-in-law and aide to President Trump, who is known to have exchanged text messages with Mohammed bin Salman? Has his phone been checked? If the Trump administration takes its own security and that of U.S. businesses seriously, it will follow the U.N. advice and thoroughly investigate the alleged Saudi hacks.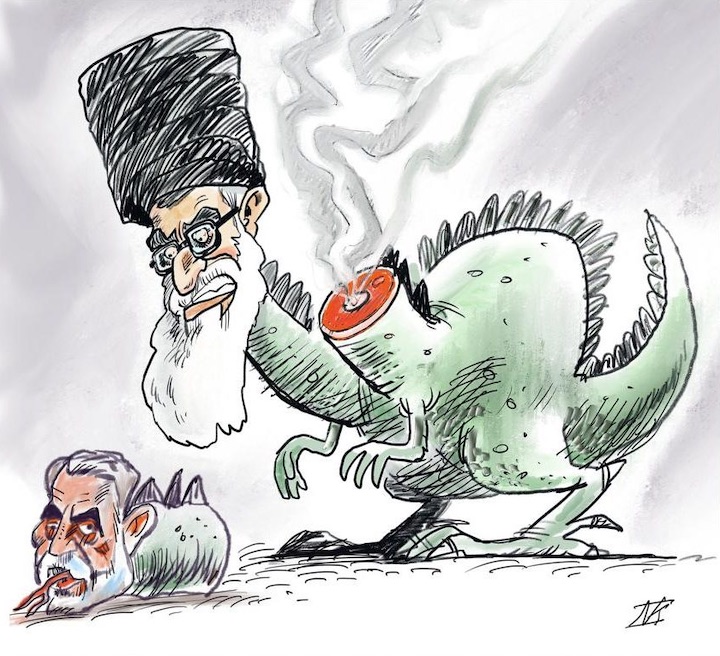 Cartoon by
Nikahang Kowsar
The Sinister Genius of Qassem Soleimani
by Karm Sadjadpour
Wall Street Journal: In 2003, in the run-up to the U.S.-led invasion of Iraq, the Iranian regime was ridden with anxiety. President George W. Bush had included Iran in his post-9/11 "axis of evil" in a famous 2002 speech. I interviewed many Iranian officials at the time as a Tehran-based analyst with the International Crisis Group, and I vividly remember their fear that the U.S. might turn next to Tehran.
In those anxious days, Gen. Qassem Soleimani —the powerful commander of Iran's Quds Force, who was killed this week by a U.S. airstrike in Baghdad—performed an act of unsettling geopolitical genius that still echoes today.

After the U.S. military campaign to topple the Taliban began, Iran detained hundreds of al Qaeda fighters fleeing Afghanistan, including some members of Osama bin Laden's family and Abu Musab al-Zarqawi, the future leader of al Qaeda in Iraq. Many Iranians saw these jihadists as a threat—Sunni zealots who hated overwhelmingly Shiite Iran. Yet Soleimani, the architect of the Islamic Republic's plans for regional dominance, realized that they could also be an asset.

In their book "The Exile," investigative journalists Cathy Scott-Clark and Adrian Levy describe the journey of many al Qaeda members who spent months and even years as "guests" of Iran. Soleimani broke bread with bin Laden's sons, who affectionately called him Hajji Qassem, Ms. Scott-Clark and Mr. Levy write. He appointed two senior Quds Force officers to "provide the guests with whatever they needed," including refrigerators, widescreen TVs and an "unlimited budget" to furnish a religious library. Saif al-Adel, a notorious al Qaeda explosives expert, had access to a sports complex in a posh Tehran neighborhood, where he swam laps alongside Western diplomats.

If the U.S.-led Iraq war was intended, in part, to cow Iran by establishing a strong U.S. military presence in Iraq and to create a flourishing Shiite democracy to undermine the legitimacy of the Islamic Republic next door, Iran would do everything it could to ensure that America's experiment turned into a smoldering failure. Before the war began in March 2003, Soleimani's Quds Force freed many of the Sunni jihadists that Iran had been holding captive, unleashing them against the U.S.

That August, Zarqawi and his forces conducted three deadly bombings in Iraq—against U.N. headquarters and the Jordanian embassy in Baghdad and a major Shiite shrine in Najaf, a southern Iraqi city holy to Shiites. These blows devastated the U.S.-led war from the beginning. By targeting Shiite shrines and civilians, killing thousands of Iran's fellow Shiites, Zarqawi helped to radicalize Iraq's Shiite majority and pushed them closer to Iran—and to Soleimani, who could offer them protection. Just months after the U.S. invasion, the debate in Washington had shifted sharply: Instead of asking how a triumphant U.S. could help Iraq to shape Iran, the question became how an embattled U.S. could stop Iran from shaping Iraq.

Under Soleimani's command, Iran became the only country in the region capable of harnessing both Shiite extremism and, at times, Sunni radicalism too. His sinister genius in bridging sectarian divides has given Iran an enormous asymmetric advantage over its great Sunni Arab rival in the Gulf, Saudi Arabia. All Shiite extremists are willing to fight for Iran, while most Sunni extremists—including al Qaeda and Islamic State—want to overthrow Saudi Arabia, which they see as a corrupt, impious agent of the West.

Soleimani conceived of using Sunni jihadists to fight the U.S. in much the same way that the U.S. used Sunni jihadists to fight the Soviet Union in Afghanistan in the 1980s. Iran's Shiite theocracy has managed, at times, to cooperate tactically with deadly Sunni extremist groups—including the Taliban in Afghanistan and the Palestinian groups Hamas and Palestinian Islamic Jihad—against their common foes, the U.S. and Israel, even as Iran has been fighting on the front lines against the Sunni fanatics of Islamic State.

During the Obama administration, Gen. Stanley McChrystal criticized Tehran for providing weapons and training inside Iran to Taliban insurgents targeting U.S. troops. In 2018, Israel's top general, Lt. Gen. Gadi Eizenkot, said that Iran had increased its funding in the Gaza Strip for Hamas and Palestinian Islamic Jihad to $100 million a year.

Perhaps no American military commander knew Soleimani better than former Gen. David Petraeus, who commanded U.S. troops in Iraq at the height of the war's fury, much of which was inflicted by Soleimani. Gen. Petraeus considered Soleimani "a combination of CIA director, JSOC [Joint Special Operations Command] commander and regional envoy." Soleimani "has the blood of well over 600 U.S. and coalition soldiers on his hands, and the blood of countless others as well, in Iraq, Syria, Lebanon, Yemen and Afghanistan—in each of which he supported, funded, trained, equipped and often directed powerful Shiite militias," Gen. Petraeus told me this week.

This highlights another of Soleimani's hugely important legacies. He also cultivated a 50,000-strong Shiite foreign legion—based on the model of Hezbollah, the powerful Shiite militia that is Iran's proxy and cat's-paw in Lebanon—to fill power vacuums in Syria, Lebanon, Iraq and Yemen and to threaten the ruling establishments in Saudi Arabia, Bahrain and other Gulf countries.

With Soleimani leading the charge, these Shiite militias helped to preserve the rule of Syria's brutal dictator Bashar al-Assad, who remains Iran's key Arab ally. At a time of great economic hardship in Iran, Tehran provided billions of dollars to arm, train and pay tens of thousands of Arab, Afghan and Pakistani Shiite militants—a force that helped Mr. Assad to crush the Syrian opposition and the Sunni Islamist rebels who rose up to defy his rule >>>

Mr. Sadjadpour is a senior fellow at the Carnegie Endowment for International Peace in Washington, D.C.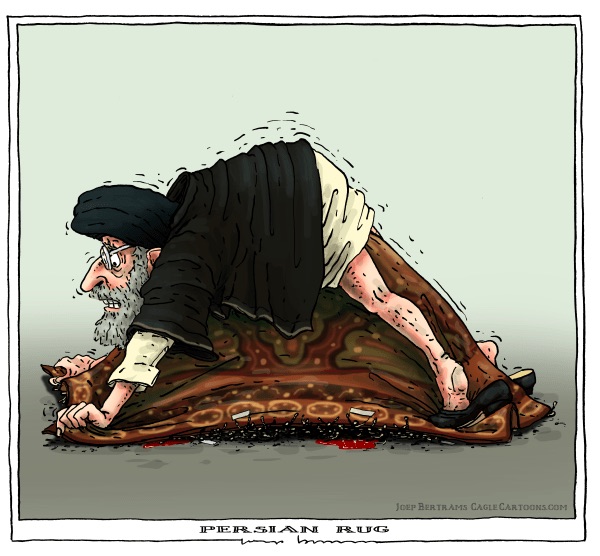 Cartoon by
Joep Bertrams
Canadian law firm launches class action on behalf of Iran flight victims
Terrace Standard: A Canadian law firm has launched a class action on behalf of the families of the 176 people who died when Iran shot down a Ukrainian plane on Jan. 8.
Himelfarb Proszanski, based in Toronto, said New York litigation funding company Galactic Litigation Partners LLC will fund the class action.
Ukrainian International Airline flight 752 crashed just after taking off from Tehran on Jan. 8. Initially, the Iranian government claimed technical failures were to blame but have since admitted its Islamic Revolutionary Guard Corps. mistakenly shot down the plane, killing all 176 on board.
Canada, which lost 57 of its own in the crash, and the international community have called for Iran to complete a thorough investigation and compensate the victims' families.
The law firm said that the flight took off despite the U.S. Federal Aviation Administration banning civillian flights over Iran. Although the Ukrainian airline is not subject to U.S. flight bans, the law firm said "many airlines respect FAA notices when making safety decisions," and that other airlines did reroute their flights due to general unrest in the region after the U.S. killing of Iranian Gen. Qasem Soleimani.
"Flight PS752 departed despite the known risks," the law firm said.
The class action has not yet been certified by the courts.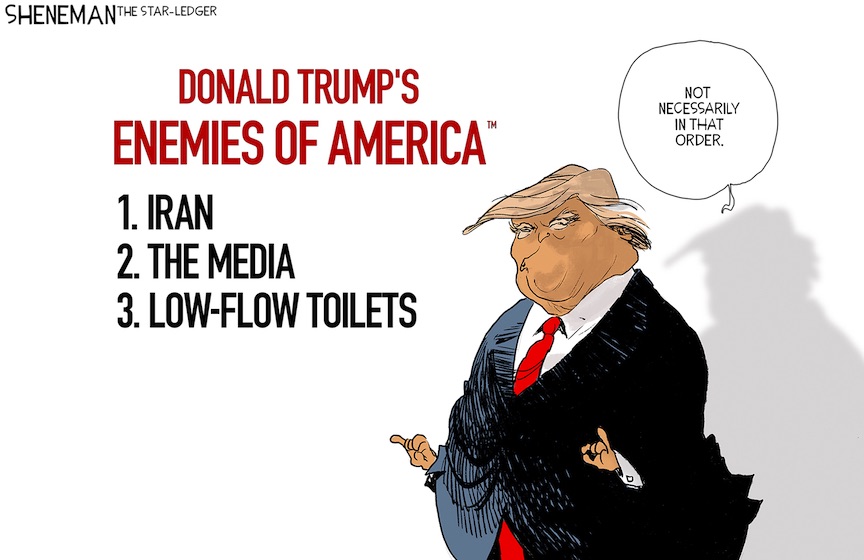 Cartoon by
Sheneman
Iranian MP Announces $3 Million Award for 'Whoever Kills Trump'
Reuters: An Iranian lawmaker announced a 3 million dollar award to "whoever kills Trump", Iranian semi-official News agency reported.
"On behalf of people of Kerman province, we will pay 3 million dollar award in cash to whoever kills Trump," Ahmad Hamzeh told parliamentarians, according to ISNA.
He did not elaborate whether it was a decision made by Iran's clerical rulers to threaten U.S. President Donald Trump.
Kerman is the hometown of Qassem Soleimani, Iran's top commander of the Quds Force who was killed by a U.S. drone on Jan. 3 in Iraq.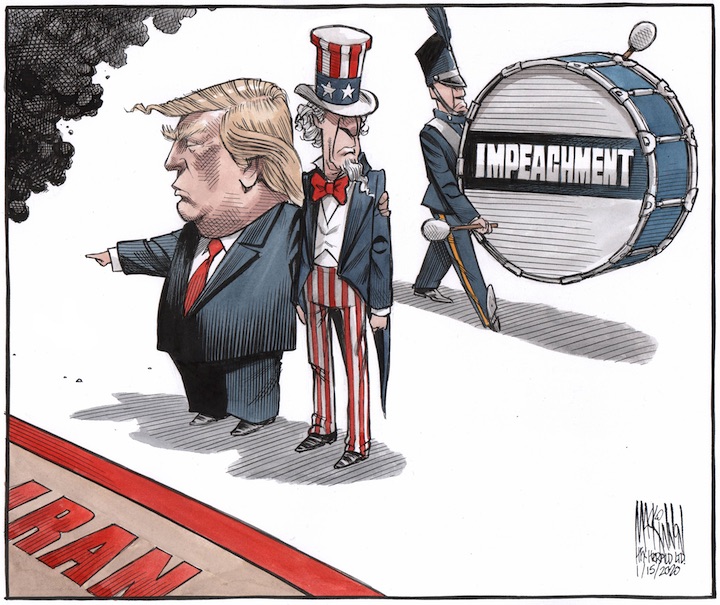 Cartoon by
Bruce MacKinnon
Impeachment hurts Trump, but Iran hurts Democrats more
The Hill: The aphorism "the enemy of my enemy is my friend" could cost the Democratic presidential candidates severely. Their reflexive and aggressive criticism of the strike against Iranian military leader Qassem Soleimani is a perfect case in point. Democratic attacks that appeared to be on the right side of public opinion are now looking disastrous.
It is no secret that Democratic voters despise Donald Trump. His approval rating among Democrats has remained around abysmal (under 10 percent) since his modest post-inauguration bump. The most recent Economist poll puts Trump's favorability at just 7 percent among Democrats — lower than any other person or entity in the poll.
Except Iran.
Americans universally loathe the Islamic Republic. Polling by Politico/Morning Consult show a mere 4 percent of Americans view Iran as a "friend" or "ally." That level is the same for Democrats, Republicans and Independents. Iran is viewed as an outright enemy by 69 percent of Americans (78 percent Republicans; 65 percent Democrats; 64 percent Independents). The Economist reports splits of 7 percent "friend or ally" and 73 percent "unfriendly or enemy" with negligible differences among the political parties.
The Democratic candidates might be excused for giving the Republicans a chance to portray them as favoring the only polling subject less popular than Trump if the president's actions were a long-term problem — but, although the initial numbers on the Soleimani strike are unfavorable, they are not nearly the problem portrayed in the media, and that's even before the Iranians admitted to shooting down a civilian airliner.
Prior to the news of the downing of Flight 752, the public approved of the Soleimani strike 47 percent to 40 percent, with the typical split of Democrats opposing Trump (70 percent) and Republicans favoring him (85 percent). Independents were modestly favorable at 40 percent to 36 percent. However, half of the public felt "less safe" — including a majority of independents. Driving this number was the high expectation that war with Iran was more likely — an opinion of the majority of Republicans, Democrats and Independents (69 percent).
When you combine the anticipated heightened risk of war with a consensus opposition to more conflicts (61 percent) and a strong feeling that America is involved in too many conflicts (69 percent), it is clear that the concern and opposition to the strike is largely tied to opposition to and expectation of escalation.
But, what happens to public opinion if the dog doesn't bark?
It turns out Iran is just as fearful of an unpredictable Trump as the Democratic candidates. I expect that public opinion will settle back into the familiar pattern of general Democratic opposition to Trump, Republican support and Independent approval as long as results are satisfactory.
Yet for the Democratic presidential candidates, the damage is done. They reflexively opposed Trump's actions and got more aggressive when the initial polling numbers came in. Now that the hysteria has died down — and, yes, proclaiming World War III as imminent is hysterical — Democrats have to deal with the fallout of condemning Trump more than a repressive and despised Iranian regime.
Only former Vice President Joe Biden led off with a strong condemnation of Iran. Not surprisingly, Biden has a large advantage on national security over his rivals: 32 percent of Democratic voters have confidence in Biden, as opposed to 20 percent for Sen. Bernie Sanders (I-Vt.). At only 11 percent, Sen. Elizabeth Warren (D-Mass.) trails "Don't Know."
It should be noted that the Trump Administration managed to botch its own message by getting mired in a debate as to whether Soleimani was an "imminent threat" to American forces. The fact is that it is clearly documented that Soleimani is directly responsible for the deaths of hundreds of Americans and no evidence exists that he was going to stop. That should be enough to justify lethal preventive action.
The Iran crisis is another instance of the Democrats throwing Trump a public opinion lifeline.
Trump has decidedly been hurt by impeachment. Since the House began its inquiry, opinion has flipped from a plurality in opposition to a plurality in support of impeachment. Yet, the public considers other issues more important. Speaker Nancy Pelosi's (D-Calif.) decision to drag out the process by withholding the articles of impeachment was a serious mistake.
The Democrats' mishandling of both the Soleimani strike and impeachment will only help Trump politically. In the case of Soleimani, public opposition was tied to fear of wider conflict. A peaceful anti-climax will help Trump and damage the Democrats' credibility. Similarly, once the Senate acquits Trump, independent voters will wonder what the purpose was — another unsatisfying anti-climax for the Democrats.
There are still risks for Trump. Iran could still retaliate in a meaningful way. Trump could overplay his hand on impeachment. Both Trump and his hopeful Democratic rivals are more than capable of self-inflicting mortal wounds on themselves. But Trump has won the first few weeks of January.
Keith Naughton, Ph.D., co-founder of Silent Majority Strategies, is a public affairs consultant who specialized in Pennsylvania judicial elections.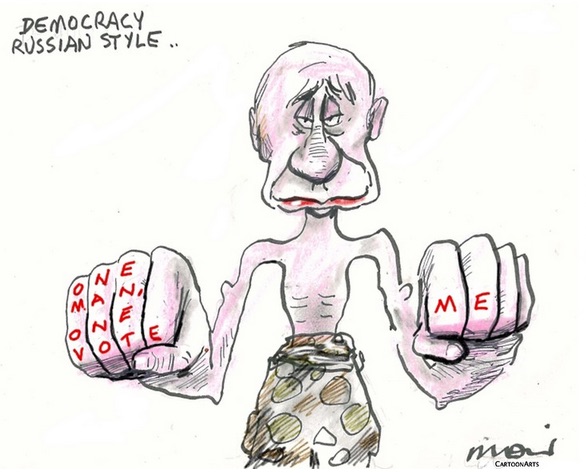 Cartoon by
Alan Moir
Putin the Immortal
The New York Times Editorial Board: Old autocrats rarely resign, nor do they just fade away. So when Vladimir Putin slipped proposals for a few changes to the Russian Constitution into his annual state-of-the-nation talkathon last Wednesday, followed immediately by the resignation of the entire government, the presumption was that the president, who is 67, was laying the groundwork to extend his 20-year reign past the expiration of his current term in 2024.
What he proposed, however, was nothing so simple as changing the two-consecutive-terms limit set by the Russian Constitution. Mr. Putin doesn't like to tamper with the existing order, which is fully under his control, and the last time he pulled a fast one to prolong his stay in power — the infamous office swap with Dmitri Medvedev — Russians took to the streets in indignation.
So this time, mused the Kremlinologists, the president was starting his machinations four years in advance and keeping them sufficiently confusing to blunt resistance, head off an incipient succession struggle and keep everyone off balance.
What he proposed was: to give the lower house of Parliament more power to pick cabinet ministers, including the prime minister, all of whom are currently proposed by the president and rubber-stamped by the legislature; to bar a president from serving more than two terms overall (it's currently two consecutive terms); and to give some teeth to the currently toothless State Council.
Mr. Putin named as prime minister someone who had been on nobody's radar, Mikhail Mishustin, until now the head of the tax authority. Mr. Mishustin is considered competent but not threatening to Mr. Putin, and he knows a lot of secrets that could help his boss should anyone among the elite get uppity.
The measures suggested several scenarios. The most compelling was that Mr. Putin would retain control through the newly empowered State Council. His successor as president will be downgraded, so Mr. Putin would retain considerable power from behind the scenes.
The advantage of this system would be that, while exercising command, Mr. Putin could blame the prime minister for any shortcomings, and also the Parliament for appointing the prime minister. Staying off the main stage would also allow Mr. Putin to reduce his workload and better enjoy his many billions.
Whatever his ultimate intentions, Mr. Putin has the authority and popularity to get the constitutional amendments through a referendum without any serious resistance, and the time to plot his next move. What that means for the West is that there will be no change in policy until 2024, and possibly very little after that.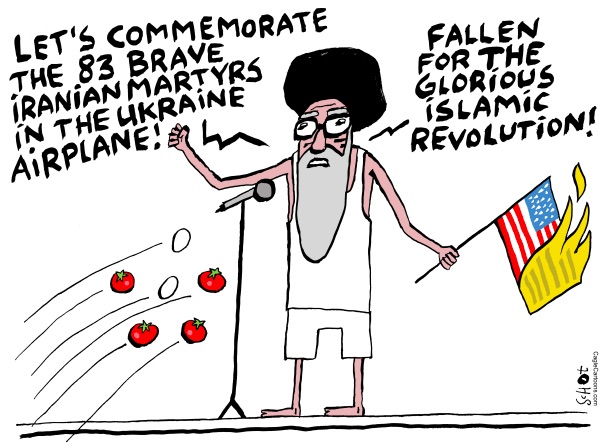 Cartoon by
Schot
Iran crash: Canadians feel like collateral damage of Trump's scattershot foreign policy
The Guardian: When a Canadian business magnate sent off a flurry of tweets blaming Donald Trump for provoking the crisis which eventually led to the accidental shooting-down of a Ukrainian passenger jet, the posts quickly went viral.
Michael McCain, the billionaire CEO of Maple Leaf Foods, used the company's branded Twitter account to describe the US president as a "narcissist" and described the 176 passengers and crew as "collateral damage" from Trump's "irresponsible, dangerous, ill-conceived behaviour".
It was a potentially risky move for a company employing 24,000 people and with operations in the United States, but the thread was liked more than 70,000 times on Twitter – suggesting that his comments had struck a nerve in Canada.
Iran has admitted accidentally shooting down the plane, which was carrying 57 Canadian citizens.
However, McCain's tweets highlight one strand of Canada's response to the disaster – the latest in a string of events in which the country has found itself caught up in feuds between the Trump administration and other countries.
Justin Trudeau seemed to acknowledge such frustrations on Monday, when he said that the victims of the disaster would still be alive were it not for a recent crisis partly triggered by Trump's decision to kill Iran's top general, Qassem Suleimani.
"I think if there were no tensions, if there was no escalation recently in the region, those Canadians would be right now home with their families," he said.
As a close ally of the US – and its largest trading partner – Canada has always been especially vulnerable to the ebbs and flows of policy decisions made in Washington DC.
Such sensitivity has only heightened under the current administration.
"Canadians might not be holding Donald Trump directly responsible for this attack, but I believe there is increasing concern among Canadians that we are the collateral damage in erratic decisions made by the Trump administration," said Stephanie Carvin, a professor of international relations at Carleton University. "There's no real forethought from this administration in how policy might affect allies. And really there's no afterthought to how they might ameliorate the damage that comes from these situations."
Canada was one of the first victims of Trump's aggressive trade policy, when the US slapped tariffs on aluminum and steel imports on the grounds of national security.
In August 2018, Canada prompted a furious response from Saudi Arabia after it criticized the kingdom's stance on human rights. Saudi Arabia expelled Canadian diplomats, recalled medical students and cut off trade – but the US refrained from comment.
"The fact that the Trump administration didn't defend us, was probably the first indication that this might be a serious challenge for Canada," said Carvin.
In December 2018, Canada responded to a US arrest warrant and detained Huawei's chief financial officer, Meng Wanzhou, on suspicion of fraud. Bound by an extradition treaty between the two nations, Canada had no choice, but the consequences have been disastrous for the country.

A protester holds photos of Canadians Michael Spavor and Michael Kovrig, who are being detained by China, in Vancouver. Photograph: Jason Redmond/AFP via Getty Images
Shortly afterwards, two Canadian citizens – Michael Kovrig and Michael Spavor – were arrested in China, a move widely viewed as retaliation for Meng's arrest. Both men remain in custody.
Relations between China and Canada remain in the deep freeze, and a free trade deal – worth billions of dollars – was shelved.
While Trudeau has spoken with Trump about the pain Canada has suffered – especially around the two detained citizens – little progress has been made in freeing Spavor and Kovrig.
"It's not helpful if the president of the United States says he'll say something to China and then doesn't follow through because he's more interested in getting a trade deal than he is in freeing the two Canadians," said Carvin. "China knows this and can use this as leverage against us."
With his seemingly freewheel approach to policy, Trump has often left Canada officials scrambling to assess the impacts of his decisions.
"We can predict the coming consequences of many of his actions, massive and momentous and obvious," wrote former diplomat Scott Gilmore in a Maclean's magazine article linking the crash to US policy in the Middle East.
"But, in our inherently chaotic and unstable world, the impact of others, like withdrawing from the Paris agreement, are less immediate and recognizable and it may take us decades to fully appreciate the tornadoes to come."
With much of the focus within Canada dedicated to navigating US foreign policy and not on its own, Canada has sidelined its own priorities, including pursuing a security council seat at the UN.
"We have benefited so much from the protection of the United States," said Carvin. "But we're starting to see what the world looks like when that protection isn't there."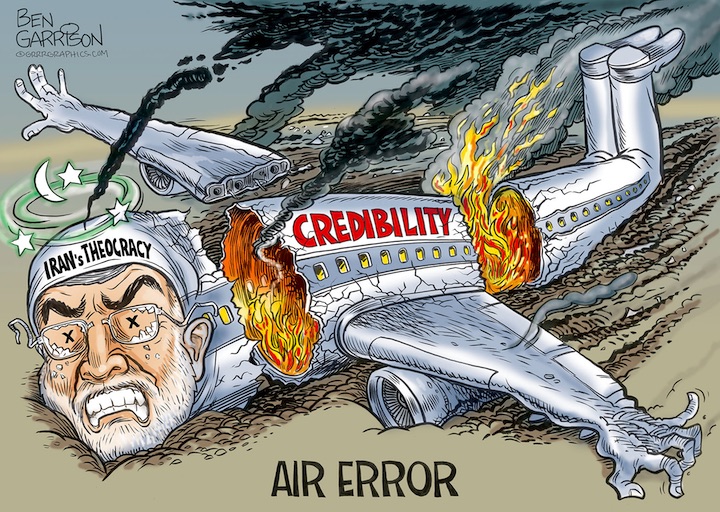 Cartoon by
Ben Garrison
Is this Iran's 'Chernobyl' moment?
Analysis by Eliza Mackintosh
CNN: Iran's admission that it mistakenly shot down a passenger plane sent protesters pouring into the streets over the weekend. Though demonstrations were smaller on Monday and nearly outnumbered by riot police, some observers have already begun to wonder if this could be the beginning of the end for the current regime.
After days of denial and obfuscation, Iranian officials finally acknowledged early Saturday that its military had shot down a Ukraine International Airlines jet, killing all 176 people on board, many of whom were Iranian citizens.
Iranian Foreign Minister Javad Zarif blamed "human error" prompted by "US adventurism," alluding to the escalating brinkmanship between Iran and the United States over the US killing of a revered Iranian commander, Qasem Soleimani.
But the Iranian government's tendency to point the finger at Washington, or other malicious foreign actors, for unrest at home is ringing hollow now. While the Trump administration has fomented a fractious atmosphere, it was not responsible for this accident.
Tehran's admission appears to have re-ignited the anti-government sentiment that raged last year, despite the wave of nationalism followed Soleimani's death earlier this month.
As crowds gathered in the capital Tehran for a candlelight vigil on Saturday to commemorate victims, protesters called for Supreme Leader Ayatollah Ali Khamenei to step down and for those responsible for downing the plane to be prosecuted. Familiar chants of "Death to America," were traded for "Death to the dictator" and "Death to the liar." In one video, demonstrators chanted, "Khamenei have shame. Leave the country."
This reckoning is already being billed as Iran's "Chernobyl" moment, an analogy to the way the 1986 nuclear disaster in the Soviet Ukraine "exposed all the incompetence, state deception and rot in that regime," according to IranWire, a site for Iranian citizen journalists in the diaspora."
But whether Iran's grief and fury could lead to revolution is hard to tell.
"Through a western lens, we're always looking for a revolutionary moment [in Iran]," said Sanam Vakil, a senior research fellow and leader of the Iran Forum at London-based think tank Chatham House.
While there are certainly similarities between how authorities handled the Chernobyl accident and the downing of Ukraine International Airlines Flight 752 -- repeated denials, attempted cover-ups, inescapable evidence from foreign governments, and a reluctant admission -- the parallels may end there, she said.
"This could be 'Iran's Chernobyl moment,'" said Vakil. "But the question is how is Iranian leadership going to handle it. [After Chernobyl] everything was very much incumbent on one political leader making a decision to accept responsibility and alter political dynamics."
"The only person who can really make meaningful changes in the Iranian political system is the Supreme Leader," she points out.
And if history is any judge, Khamenei could move to violently quash protests, as he did during anti-government protests that gripped Iran late last year. How Tehran reacts now to the protests has drawn both international and domestic scrutiny, with warnings from US President Donald Trump that the "world is watching" and "do not kill your protesters."
For an uprising to become a revolution, the opposition needs its own leadership and a shared ideology, according to Emmanuel Karagiannis, a senior lecturer at the Department of Defense Studies at King's College London.
But Iranian protesters have neither, he said, dismissing recent demonstrations as a "spontaneous and grassroots" movement that draws across a broad mix of interests and loyalties, including students, professionals, trade unionists, and ethnic minorities.
"The Iranian regime has been in power for over 40 years. Of course, it could collapse but it's hard to see that happening without the elements that would need to be in place ... an organized and united opposition," said Vakil.
Nevertheless, this moment seems different.
Unlike the previous groundswell of opposition, response to the downing of the Ukrainian passenger plane has triggered condemnation from conservatives too, who typically support the government. The editor in chief of right-wing Tasnim news agency -- which is tied to the Islamic Revolution Guards Corps -- criticized Iran's leaders for attempting to lie to the public. "Officials who misled the media are guilty too," Kian Abdollahi said on Twitter. "We are all ashamed before the people."
That shame has grown under the harsh spotlight of a relentless news cycle and the outcry from Iranians on social media.
Though Iran's state media did not cover this weekend's protests, images and cellphone videos shared on social media has amplified the message of civilian anger. So too have public figures, who have spoken out online at great personal risk.
Oscar-nominated Taraneh Alidoosti, Iran's most popular female actor, took to Instagram on Sunday to bluntly criticize the government, telling millions of followers that Iranians were "not citizens," but "captives." "I fought this dream for a long time and didn't want to accept it. We are not citizens. We never were. We are captives," she wrote.
"Ultimately the Islamic Republic is under pressure, because people really do want accountability and transparency," Vakil said.
Perhaps Iran's government spokesman described the situation best. In commentary published in the semiofficial Fars News Agency, Ali Rabiee said that the regime's delayed admission to downing the plane had "irreparably damaged the relationship between us and our nation."
The question now is what Tehran will do about it.