Public Page
Follow
Joined on April 10, 2013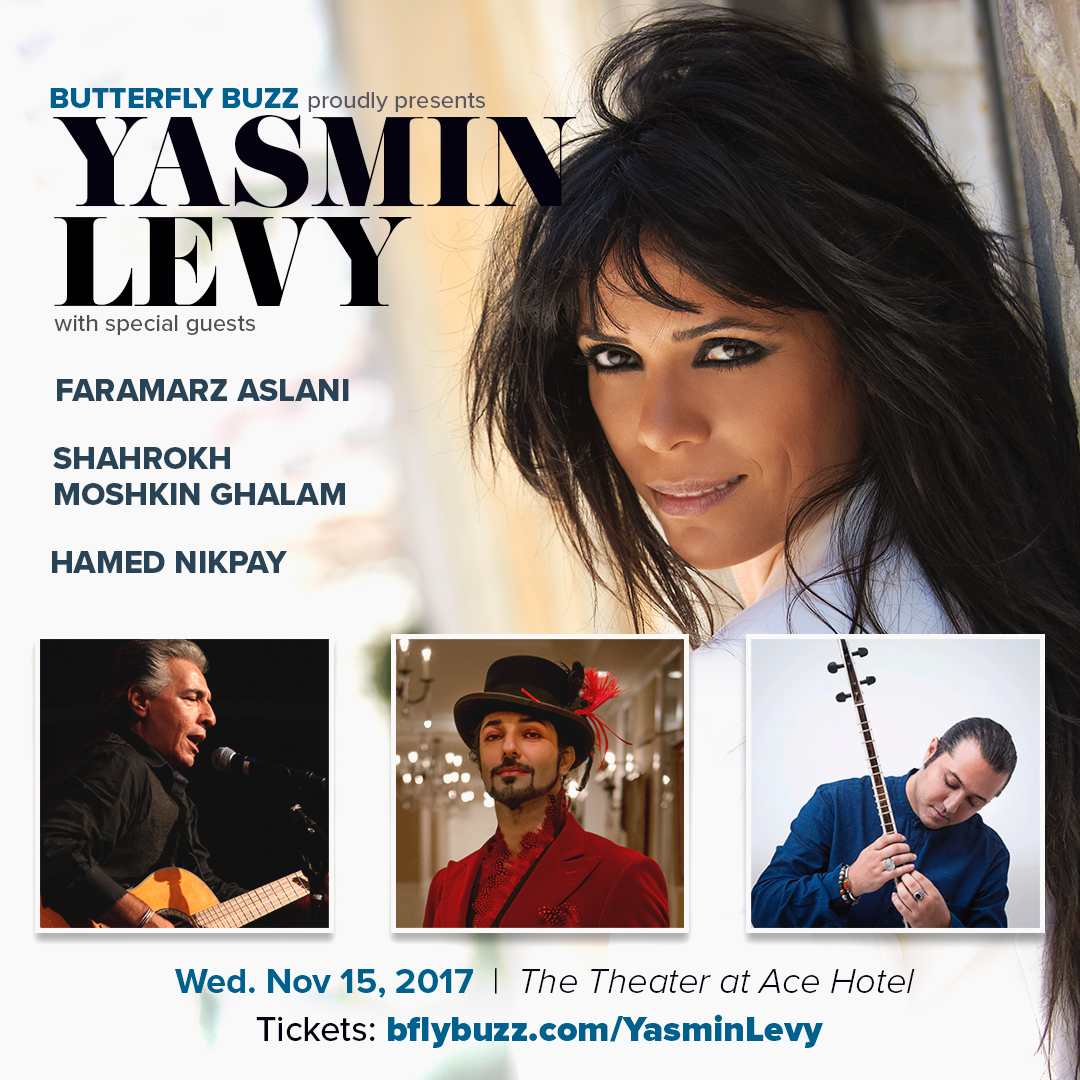 Butterfly Buzz
is proud to present Yasmin Levy's Los Angeles premiere collaboration performance alongside special Iranian guest artists
Faramarz Aslani
,
Shahrokh Moshkin Ghalam
&
Hamed Nikpay
!
Tickets Available Online ONLY |
http://bflybuzz.com/

YasminLevy
Limited Preferred Seating Available | Contact: 888-779-8489
- - - - -
A unique and historic concert of an exceptional Israeli singer performing in Ladino (Judeo-Spanish), with flavors of Flamenco, Turkish and Persian music, joined by three prominent Iranian artists, echoing the message of unity through art. The concert will be hosted at the historic The Theater at Ace Hotel; a delicately restored 1920's movie palace originated by Mary Pickford and Charlie Cha
pman.

Yasmin Levy sings in Ladino, an ancient form of the Spanish language that was kept alive by the Sephardic Jews. With a deep, spiritual, and moving style, Yasmin Levy is a leading voice in Ladino song and culture. In addition to being a leading voice in Ladino song and culture, she is a contemporary singer/songwriter, performing in modern Spanish, as well as bringing the flavors of Flamenco, Turkish and Persian music all together into a style of her own.
Yasmin Levy made it her cause to recast and transmit the disappearing musical legacy of Ladino, the Judeo-Spanish language of the Sephardic Jewish communities that were driven from Spain in the late 15th century. Amongst Sephardic Jewish communities across North Africa, Turkey, the Balkans and the Middle East, Ladino survived as a language until almost vanishing in the 20th Century. Yasmin Levy's father, Yitzhak Levy, was the head of the Ladino department at Israel's National Radio, but Yitzhak died when she was only a baby. Before his passing, he had taught her mother the songs, and in turn she taught her daughter.

"Impressively powerful. A triumph." -The Guardian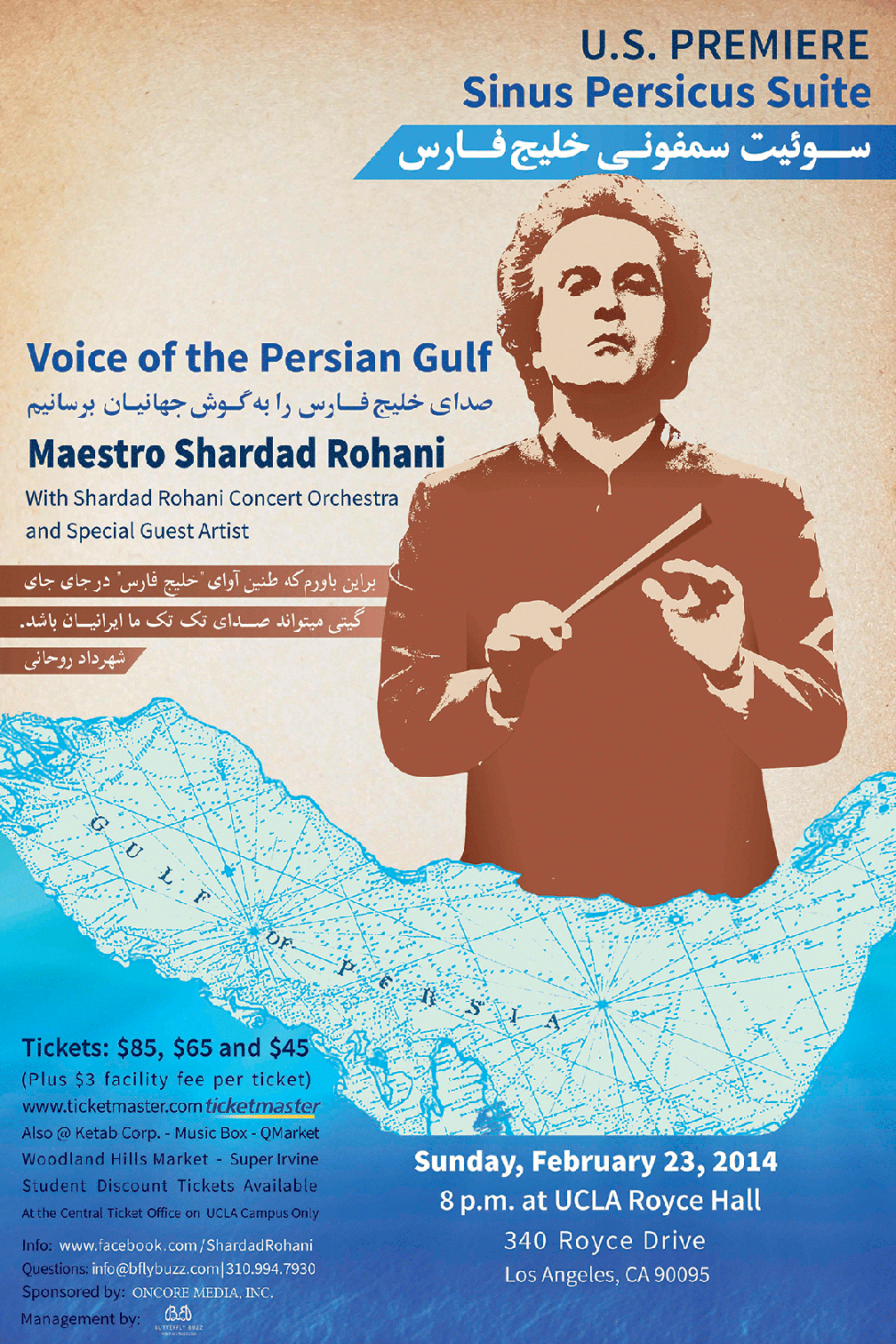 Voice of the Persian Gulf
صداى خليج فارس را به گوش جهانيان برسانيم
Sun, Feb 23, 2014 at 8 pm at UCLA Royce Hall
Tickets $85, $65 and $45
(plus $3 facility fee per ticket; add'l processing fees apply when purchasing online)
Also at:
Music Box & Ketab Corp in Westwood
Woodland Hills Market & QMarket in the Valley
Super Irvine in Orange County
Discounted Student Tickets available in person at the UCLA Central Ticket Office - Limited Seats - $25 / ticket with Valid Student ID
Sponsored by ONCORE MEDIA, INC.
Management by Butterfly Buzz; Let's Fly!
info@bflybuzz.com | 310-994-7930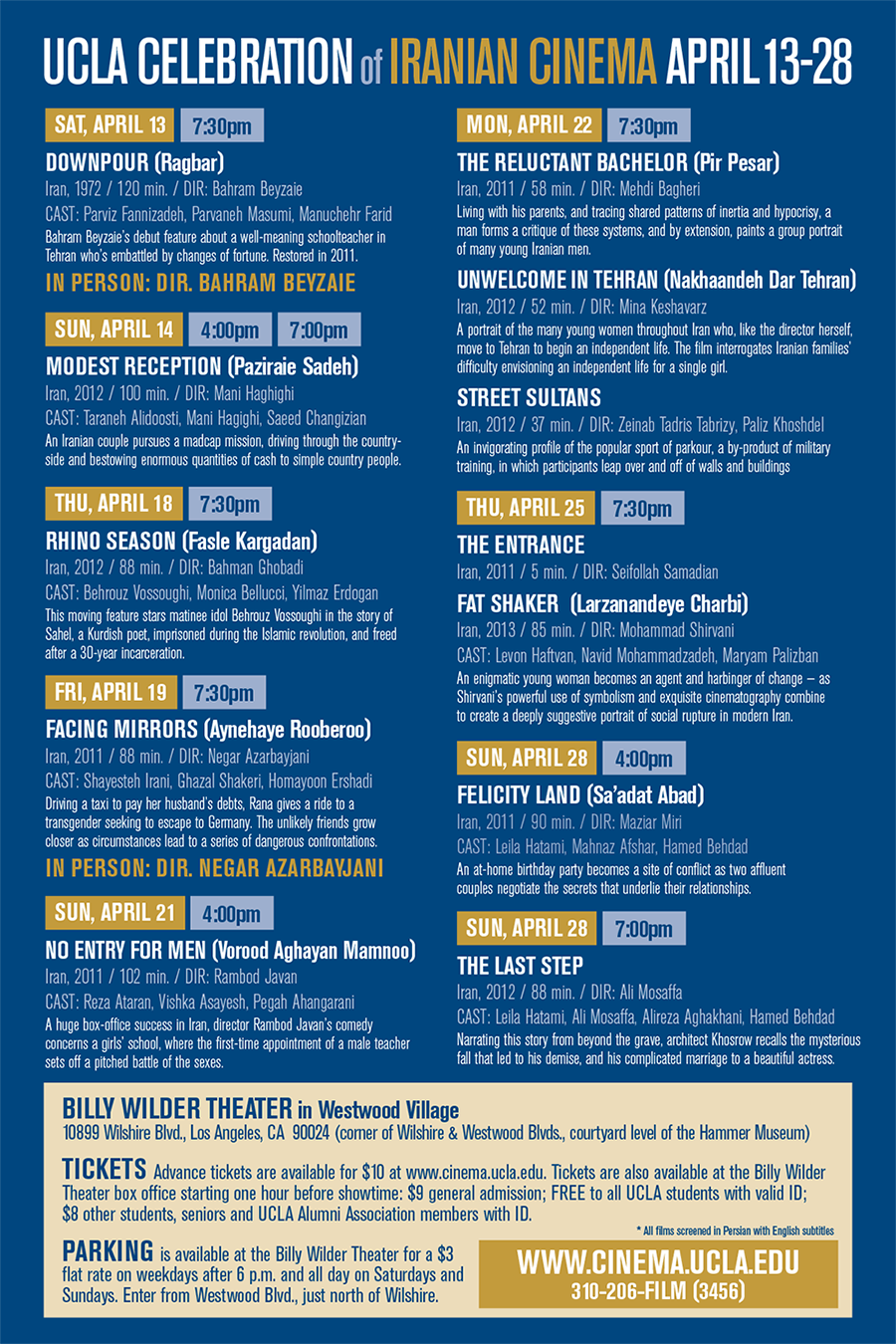 CLICK HERE for schedule and tickets.
In-person: director Bahram Beyzaie (4/13).
UCLA Film & Television Archive is proud to continue its long tradition, tracing the unfolding of Iran's fascinating national cinema. Continually offering compelling new voices and visions, Iranian film responds to a rich storytelling heritage and enters into crucial dialogue with other world cultural and artistic traditions in its unique interplay of social inquiry and formal experimentation. This edition of the UCLA Celebration of Iranian Cinema offers a panoply of genres and storytelling modes, sampling the contributions of an array of film artists, working in widely varying settings and focused on diverse topics.
April 13 - Downpour (Iran, 1972)
in person: director Bahram Beyzaie
April 14 - Modest Reception (Iran, 2012)
April 18 - Rhino Season (Iran, 2012)
April 19 - Facing Mirrors (Iran, 2011)
in person: director Negar Azarbayjani
April 21 - No Entry for Men (Iran, 2011)
April 22 - The Reluctant Bachelor (Iran, 2011)
April 22 - Unwelcome in Tehran (Iran, 2012)
April 22 - Street Sultans (Iran, 2012)
April 25 - Fat Shaker (Iran, 2013)
April 25 - The Entrance (Iran, 2011)
April 28 - Felicity Land (Iran, 2011)
April 28 - The Last Step (Iran, 2012)